KDDI Open Innovation Fund III Invests in YOGO ROBOT, Provider of Multifunctional Delivery Robots that Can Perform Multiple Services with a Single Robot
―Can be utilized for multiple applications with automatic function switching―
March 20, 2023
KDDI Corporation
KDDI invested in YOGO ROBOT Co., Ltd. (Headquarters: Shanghai; CEO: Zhao Ming; hereinafter "YOGO"), a provider of multifunctional delivery robots that can perform multiple services with a single robot, through KDDI Open Innovation Fund III (operated by Global Brain Corporation; hereinafter "KOIF III"), which aims to invest in promising venture startups.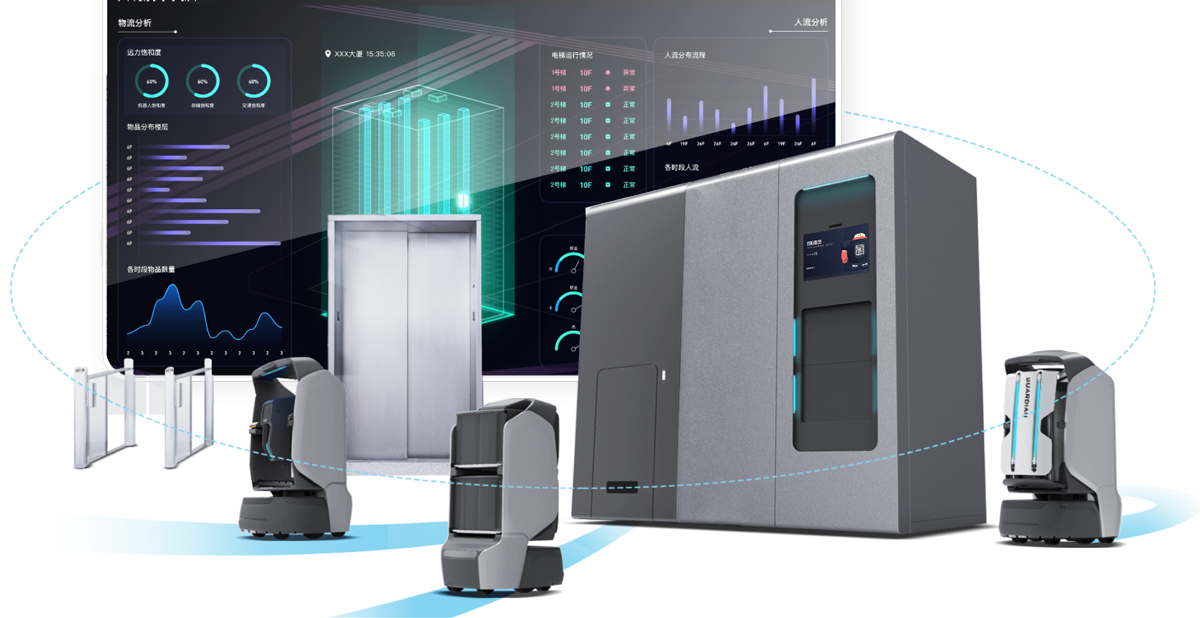 Due to the labor shortage caused by a declining population, the lack of workers in fields such as logistics and building maintenance has become a societal problem, and there are high expectations for the utilization of robots. In addition, awareness of the need to increase office worker productivity is growing year by year, and office environments which are more convenient and highly efficient are needed.
At the same time, the introduction of robots in buildings for individual applications such as delivery, cleaning, and building maintenance has created the problem of complex management.
By linking the robots with the special facility known as "STATION," YOGO automatically changes the robot's functional module, allowing multiple services to be provided according to the situation. During the daytime, the robots can perform food delivery utilizing the delivery module, collect trash utilizing the collection module, or perform other tasks. At nighttime, the robots can perform building management services such as checking for facility damage and inspecting equipment. While previously it was necessary to prepare multiple types of robots for different applications, YOGO allows a single robot to be used for multiple applications, increasing the efficiency of robot utilization. The "STATION" can also function as a cabinet for temporary storage of cargo, and can store items received from outside internally in the same way as a delivery box. This allows the robot to perform delivery at the time specified by the customer, and improves the efficiency of overall delivery operations.
The robot position and state are also mapped in 3D space, making it possible to visualize the robot movement history and other items for each time period. This allows optimization of robot movement schedules and achieves DX for building management.
In the future, verification tests for deliveries and other functions will be performed by linking YOGO with the elevators at KDDI facilities. In addition to verification of a YOGO model that has demonstrated growing social implementation and has been introduced at more than 300 buildings worldwide, KDDI will utilize the knowledge that it has gained through past verification of robot use, contributing to the creation of a society where robots and people coexist in harmony.
As "the company that customers feel closest to," KDDI will continue to promote business co-creation through investment in promising startup companies, and create new business models together with customers and partners.
(Reference)
MUGENLABO Magazine
Toward a future where everyone has their own robot - YOGO ROBOT (in Japanese only)

■Overview of SHANGHAI YOGO ROBOT Co., Ltd.

(1)

Company name: SHANGHAI YOGO ROBOT Co., Ltd.

(2)

Headquarters: Shanghai, China

(3)

Date founded: January 2016

(4)

Business activities: Development and operation of autonomous travel robots for indoor deliveries and other applications

(5)

Representative: Zhao Ming