KDDI's Approach (Recycling-Oriented Society)
In order to reduce our environmental impact from waste produced through business activities, we effectively utilize our resources to contribute to the formation of a recycling-oriented society.
Promoting Waste Reduction
We promote reuse activities that regenerate and effectively use retired telecommunications facilities. We also conduct material recycling that turns unneeded equipment and structural materials into resources. In fiscal 2021, we recycled deteriorated storage batteries installed in telephone exchange stations used in test environments to utilize the materials and achieved a total recycling volume of 1,714 tons within KDDI. We will continue our commitment to reuse and recycle communication equipment, including base stations, retired due to regular upgrades.
| Initiatives | FY2020 Results | FY2021 Results |
| --- | --- | --- |
| Total material recycling volume | 1,073.2t | 1,714t |
Reducing Waste and Promoting Recycling
| Initiatives | FY2020 Results | FY2021 Results |
| --- | --- | --- |
| Reduction of paper by putting bills on the Web | 4,962t | 5,180t |
Promotion of Plastic Reduction
Starting from late May 2021, KDDI and OKINAWA CELLULAR TELEPHONE COMPANY, have gradually switched plastic shopping bags used at au Shops, au Style shops and UQ Spot shops to paper shopping bags containing no plastic materials as part of our global environment protection initiatives. By replacing about 5,700,000 shopping bags distributed at the shops per year with those made of FSC-certified paper [1], we will contribute to deforestation control and environmental conservation through the use of highly recyclable FSC-certified paper made from wood harvested from properly managed certified forests. In addition, both plastic covers for protecting shopping bags from rain and plastic bags for carrying catalogs and leaflets are also replaced with ones made of the material containing 25% biomass.
[1]

The type of paper made from wood certified under the international initiative to deliver wood harvested from properly managed forests to consumers and return profits to producers.
Promotion of Mobile Phone Recycling
Used (post-consumer) mobile phones collected from customers at au Shops are manually disassembled in secured rooms, with circuit boards, displays, cameras, plastics, screws, antennas, motors, speakers and other parts being separated. Gold, silver, copper and palladium are extracted from the circuit boards, while screws and antennas are recycled into steel products, and plastics are recycled, to the extent possible, into plastic products. When a machine is used to disassemble a mobile phone, plastics are burned up in the incineration process and so cannot be recycled.
Recycling eliminates any need for new mining and refining of mineral resources such as oil, iron, gold, silver and copper, while also reducing the amount of carbon dioxide that is generated by materials processing.
Therefore, we at KDDI perform all disassembly manually to prevent recyclable resources from being wasted. On February 19, 2021, KDDI received the Resource Recycling Award of the 18th Corporate Philanthropy Award organized by the Japan Philanthropic Association for its initiatives for such material recycling and the creation of employment opportunities for people with disabilities in manual disassembly of mobile phones.
Performance in FY2021
| Collection performance [2] | Recycling rate (mobile phones) |
| --- | --- |
| 2,600,000 units | 99.8% |
[2] Includes main body, batteries and chargers
Basic Flow for Recycling of Mobile Phones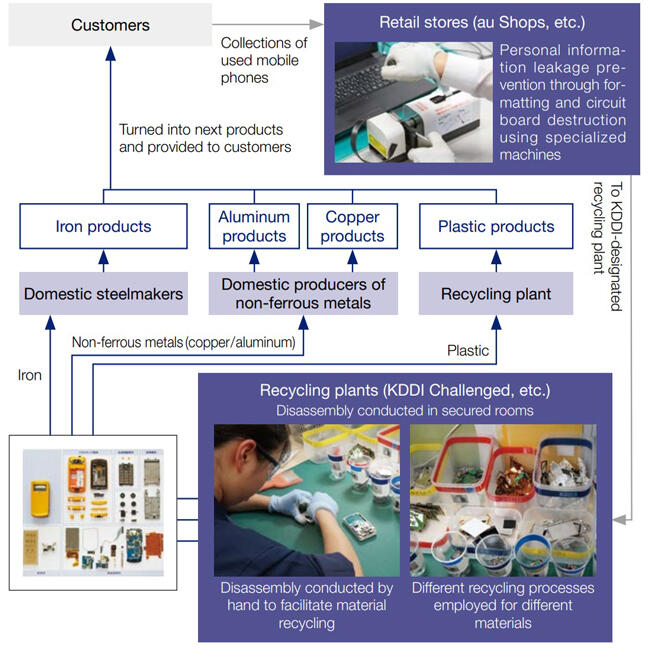 Approach to Water Use
There are fears of losing water resources because of increasing global population and decreasing water availability due to climate change. As disputes concerning water distribution and pollution have broken out in various locations around the world, it is significant to make efficient use of water. We are making efforts to reduce water use in our business activities as well as to offer products and services that contribute to efficient water use.