This is an Internet-based voice communication service using "050" numbers.
This service features lower calling rates. For instance, calls made between subscribers become free.

Partner IP phone service providers
IP phone service offering free calls
Calls made between subscribers are free. Discounts are also available on domestic and international calls.
Free calls are offered by a wide variety of IP phone service providers.
Clear calling quality which is comparable to that of the conventional phone can be retained.
No need to change the current telephone equipment and phone number provided by NTT or other companies.
Advantage 1

Lower calling rates!
You can save calling rates through the use of KDDI-IP Phone.
Calls made between subscribers are free! Discounts are also available on domestic calls to non-subscribers as well as international calls and calls made to mobile phones.

Calls made between subscribers are free!

Uniform rate of ¥8 per 3 minutes is applied to domestic calls to anywhere throughout the country.

International calls to the U.S. mainland cost ¥9 per minute (tax free)!
Advantage 2

A wide variety of partner ISPs!
KDDI IP phone service offers free calls to users subscribing to other companies' IP phone service.
KDDI provides the IP phone service to a variety of providers such as BIGLOBE and @nifty. The range of partner ISPs has been gradually expanded.
To apply for an IP phone service, please contact individual providers.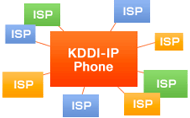 Advantage 3

Clear Voice Quality
You can enjoy the same clear sound quality as a conventional phone system.
Try KDDI-IP Phone!
You can listen to the sample voice of KDDI-IP Phone service by dialing the following number.

0120-922348(toll-free)
Notes

For technical reasons regarding the IP phone system, the voice quality of IP phone is critically affected by the Internet connection and various factors in the customer's residence. KDDI strives hard to keep up the quality, but under the following conditions the voice quality of IP phone may be negatively affected.

When the Internet traffic drastically increases
When the actual download speed of the Internet becomes less than 500 kbps
During the high congestion period in the night (particularly from 10 p.m. to 1 a.m.)
When large data is communicated via FTP
When a security device is installed that may affect ADSL connection
When a device that radiates strong electromagnetic waves such as a microwave oven is located around the phone cable
This service becomes available simply by connecting an IP phone modem [1] to the existing phone equipment.
As an IP phone and the existing phone are concomitantly used, there is no need to change your phone number. A new phone number starting from "050" is provided for the use of IP phone in addition to the existing phone number.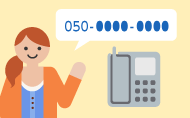 [1]

You can use either an IP phone modem provided by a service provider for rental, an IP phone adaptor (provided by KDDI for rental), or an IP phone compatible device (provided by NTT East/NTT West for rental or purchase).
Notes

If customers use KDDI-IP Phone through the dedicated line for the Internet connection (e.g. ADSL dedicated line or optical fiber line) and do not subscribe to a general subscriber phone, the following numbers are not accessible.

Emergency numbers such as 110 and 119
KDDI Customer Service Center (0077-777/0077-7084 etc.)
Numbers that are inaccessible from IP phones (including the above-mentioned numbers)

If you attempt to make calls to these numbers, please use a general subscriber phone, mobile phone, or PHS.
Customers who use an IP phone concomitantly with the existing phone can make calls to these numbers through general subscriber phone lines.
Customers using au one net can click the following link to get information on KDDI-IP Phone.

KDDI-IP Phone (au one net) (in Japanese only)
All of the indicated amounts

exclude tax

unless otherwise specified.