What is au HIKARI Phone service?
High-quality and low-cost phone service using KDDI's advanced Contents Delivery Network (CDN).
No need to change the phone number and telephone equipment you are currently using.
Budget-pleasing price with more discounts on monthly basic rates!
Great discounts not only on out-of-city calls and out-of-prefecture calls, but also on international calls and calls made to mobile phones!
Get a discount on domestic calls by combining usage fees of au mobile phone and au HIKARI into a single bill!
No need to change phone number and telephone equipment. Additional convenient services arealso available!
Advantage 1

Save on basic rates!
Customers are charged the monthly usage charge for internet services plus ¥550 (tax included) only for au HIKARI Phone service [2]. As you no longer need to pay for NTT basic rates of ¥1,870 (tax included), you can get a discount of ¥1,320 (tax included) every month.

[1]

In the case of third-class station for residence (first- and second-class stations for residence: ¥1,760 (tax included)/month; the rate differs for dial line). ¥121 (tax included) is reduced when using @Billing and MY Billing (the discount may not be applicable for @Billing and MY Billing depending on your line type and station class).

[2]

The universal service fee and the telephone relay service fee are separately incurred.
Universal Service Fund System
Telephone Relay Service Fund System

[3]

The maximum number of phone services to be contracted per line is 2 contracts. The second contract of the phone service costs ¥495 (tax included)/month. Please note that switching hub is required (not available for some services including au HIKARI Mansion Type F and Mansion Giga).
If you use multiple home gateways by contracting an additional phone service or other reasons (in Japanese only)
Advantage 2

Save on calling rates!
Get great discounts by subscribing to au HIKARI Phone service. When making a domestic call to general subscriber phones, the calling charge is uniform regardless of destination (within or outside the prefecture) at the rate of ¥8.8 (tax included)/3 minutes, offering up to 90% discount on calling charges.

[4]

Calling rates shown above are applied to calls made during 8:00 - 19:00 on weekdays under the condition that the location of both general subscriber phone (caller) and mobile phone (callee) are within a service area specified by each of the telecommunications carriers.

[5]

The classification of in-prefecture and out-of-prefecture is based on the prefectural classification defined by Article No. 24 of the Ministerial Ordinance of Ministry of Posts and Telecommunications (enacted on July 1st, 1999), and thus may differ from the administrative classification.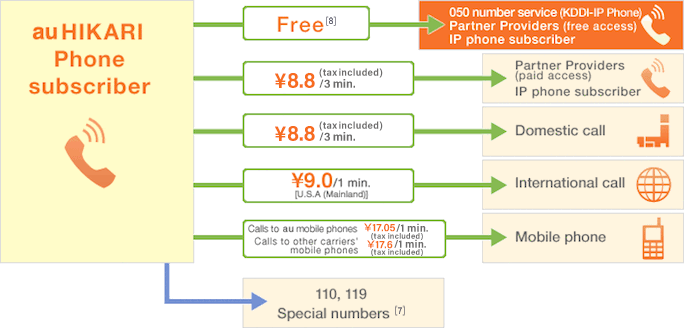 [6]

Outgoing calls to 110 (police), 118 (Japan Coast Guard) and 119 (fire station) can be made. When you make a call to individual emergency institutions, a contractor's address, name and phone number are notified to a callee (excluding fire stations in some regions). Please note that the anonymous call setting configured per line is not applied. If you want to make a call anonymously, add "184" for each call.

[7]

Application for the 050 number service (KDDI-IP Phone) is required [paid service: ¥165 (tax included)/month]. If you do not apply for the service, the rate of ¥8.8 (tax included)/3 minutes is applied.
See this page (in Japanese only) for more details.
Advantage 3

Earn more savings by thecombined use of au HIKARIand au mobile phone!
KDDI Collective Billing Service combines au mobile phone bill and au HIKARI bill into a single bill!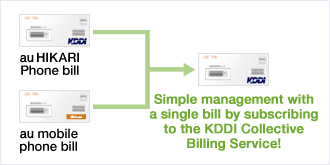 Earn a discount of ¥110 (tax included) on your monthly basic rates by subscribing to the KDDI Collective Billing Service!
Simple management with a single combined bill!
Additionally, a further discount will be offered on domestic calls by subscribing to the KDDI Collective Billing Service! "au Collective Talk"
"au Collective Talk" which offers a discount on domestic calls for 24 hours will be applied!
With the use of "au→ My Home Discount", domestic calls made from your au mobile phone to your home become free for 24 hours. Within Japan.
About au Home Phone

This is the collective term used to refer to various fixed line services provided by KDDI. By combining one of these services with au mobile phone through the au Collective Talk plan, domestic calls between fixed lines as well as domestic calls between a mobile phone and a fixed line become free at all hours.
You can continue using the current phone number of NTT subscriber phone and telephone equipment. There is no change in the way you make calls. Convenient functions equivalent to those offered for NTT subscriber phone are available.
No need to change phone numberand
telephone equipment

au HIKARI Phone service can be used just like your current phone!

Toll-free call numbers starting with 0120, and call numbers starting with 0570, teledome starting with 0180 are still available.
Add-on services (Call waiting, Incoming number display, Call waiting number display, Caller ID request, Nuisance call blocking etc.) can be used in the almost same way.
*

When making a call to individual emergency institutions, a customer's information (a contractor's address, name and phone number) is notified to each institution. In the case of emergency calls, even if the anonymous call setting configured per line (which enables a caller to make a call without revealing the phone number) is activated, a customer's information will be notified to individual emergency institutions unless "184" is added. (If you add "184" every time you make a call, your information remains anonymous.)
Emergency calls (in Japanese only)