KDDI recognizes that promoting awareness of rules is a fundamental management issue for enforcing a corporate code to fulfill its social responsibility in addition to observing laws and regulations. As a global corporation, KDDI is working to enhance its compliance systems throughout the entire Group.
Compliance Promotion System
To provide a guideline for employees to act ethically and with an awareness of compliance, KDDI has established the KDDI Code of Conduct, and published it on our intranet to ensure employees are familiar with and act in accordance with it, making it available so that anyone can refer to it when dealing with doubts about their own judgement.
The Company has also put in place the KDDI Group Business Ethics Committee to deliberate and make decisions on compliance related items. The KDDI Group Business Ethics Committee is headed by the vice chairman, representative director, and comprises committee members including directors and other people that the chairman appoints as necessary. The committee meets semi-annually to ascertain the situation at each company and support the establishment and reinforcement of compliance structures. The KDDI Group Business Ethics Committee is also in charge of matters related to the helpline, preventing corruption, and compliance infringement such as violation of the Act on Prohibition of Private Monopolization and Maintenance of Fair Trade.
The KDDI Group Business Ethics Committee also formulates policies for educational activities and, in the event a compliance violation occurs, discloses information outside the Company and deliberates on measures to prevent recurrence. The status of the committee's activities is made available to all employees via the intranet.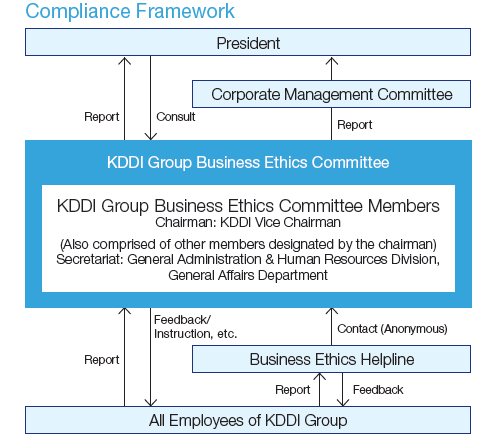 Business Ethics Helpline (Grievance Mechanism)
We established the Business Ethics Helpline in 2006 to serve as a contact point for all employees of KDDI, KDDI Group companies and business partners who have questions or concerns about business ethics and legal compliance. The helpline is available anytime and can receive reports through an internal or external contact point established in collaboration with external experts (Reports can be received by e-mail, phone call or letter, in multiple languages).
Furthermore, we have established company regulations to enable anonymous whistleblowing based on the Whistleblower Protection Act enacted in Japan in April 2006.
In the fiscal year ended March 31, 2019, we received 330 reports and inquiries, but there were no reports of serious issues that lead to disciplinary action or require external announcement.
The KDDI Group Business Ethics Committee conducts investigation of the issues reported as required while protecting privacy, and when the problems are detected, the committee members as well as the management team and the Audit & Supervisory Board members receive the report and take corrective actions along with measures to prevent recurrence.
We at KDDI Group pursue the satisfaction and benefits of our customers while fulfilling our social responsibilities by maintaining and enhancing the international tax compliance and paying tax appropriately, adhering to international rules and tax-related laws and regulations in each country and region. In fiscal 2018, we paid 309,149 million yen of corporate income tax, which accounts for 30.6% of the gross income.
As KDDI Group businesses become increasingly multinational and have more international transactions, our top management is working to promote a tax strategy that properly recognizes international tax risks and regards it as an important issue that is directly linked to management. In addition, the head office is engaged in education for employees across the world and receives technical tax practice support from external specialists. With these initiatives, we strive to maintain and improve tax governance.
Efforts to Establish Good Relations with Tax Authorities
In an effort to reduce tax risks, we improve the transparency of our tax practices by submitting appropriate information and checking the appropriateness of our tax practices with tax authorities in advance as required, building trust with tax authorities in each country.
Efforts to Prevent Tax Avoidance
In accordance with OECD's Base Erosion and Profit Shifting (BEPS) action plans, we conduct responsible taxation by ensuring that our economic activities and value creation occur in the right tax payment places in line with the revision of tax regulations stipulated in BEPS. We also prevent transfer of sources of tax revenue to tax free or low tax rate countries and regions (so called" tax havens") with the purpose of excessive tax avoidance and work to make proper tax payments in accordance with each country's tax system.