KDDI recognizes that promoting awareness of rules is a fundamental management issue for enforcing a corporate code to fulfill its social responsibility in addition to observing laws and regulations. As a global corporation, KDDI is working to enhance its compliance systems throughout the entire Group.
KDDI Group Compliance and Enforcement Framework
We created the KDDI Code of Business Conduct to support ethical behavior and ensure that every employee cultivates a compliance mindset.
To ensure that the Code is shared and practiced, it is published on the intranet and a web link to the Code is put in business vehicles lent to employees, enabling employees to check it whenever they are unsure what action to take.
Also, we established the KDDI Group Business Ethics Committee as a decision-making body for KDDI Group's compliance related matters.
The committee holds a meeting once every half-year, and in addition to assessing the conditions of Group companies, it builds and supports enhancement of compliance frameworks. The committee is also responsible for helpline issues, corruption prevention and compliance issues such as breaches of competition laws.
In addition, the report on their activities is made available to all employees via the intranet.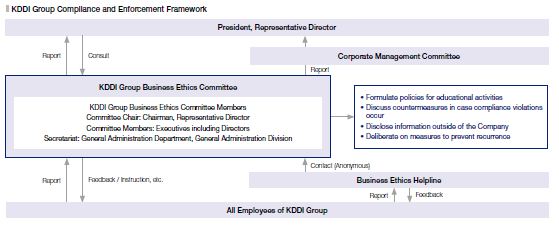 Business Ethics Helpline (Grievance Mechanism)
We established the Business Ethics Helpline in 2006 to serve as a contact point for all employees of KDDI, KDDI Group companies and business partners who have questions or concerns about business ethics and legal compliance, including those associated with human rights issues.
In the fiscal year ended March 31, 2020, we received 469 reports and inquiries, but there were no reports of serious issues that lead to disciplinary action or require external announcement. The KDDI Group Business Ethics Committee conducts investigation of the issues reported as required while protecting privacy, and when the problems are detected, the committee members as well as the management team and the Audit & Supervisory Board members receive the report and take corrective actions along with measures to prevent recurrence.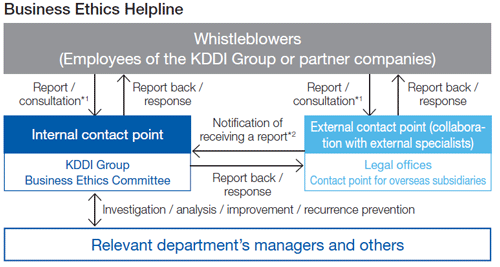 *1)

KDDI's multilingual helplines receive anonymous consultation or reporting via e-mail or phone call in accordance with the Whistleblower Protection Act

*2)

Reports that the external contact point received are delivered to the internal contact point, keeping anonymity for the whistleblowers unless they agree to be named
Preventing Anti-Competitive Behaviors
The KDDI Code of Business Conduct defines rules that prohibit anti-competitive behaviors, and we make efforts to ensure that all employees comply with competition laws.
In addition to competition laws, we stipulate that local laws and regulations in each country and region on labor, tax, the environment, monopoly and consumer protection must be examined thoroughly to ensure full compliance.
Under the KDDI Guidelines for Sustainable and Responsible Procurement, we demand our business partners not engage in any activities that inhibit fairness, transparency or freedom of competition. However, in January 2021, KDDI became subject to administrative guidance issued by the Ministry of Internal Affairs and Communications due to false reporting about 12 affiliate companies that should have been designated as electric telecommunication operations subject to the provisions of paragraph 2 of the Telecommunications Business Act, under Article 27-3. In line with this administrative guidance, the ministry demanded that thoroughgoing measures be taken to prevent recurrences.
KDDI is working hard to prevent recurrences by reviewing its internal check system.
Excepting the issues reported above, there were no legal actions against us concerning anticompetitive or monopolistic conduct in the fiscal year ended March 31, 2021. We will fully adhere to relevant regulations and continue appropriate business operations.