Corporate Governance Framework (Simplified Version) (as of June 20, 2018)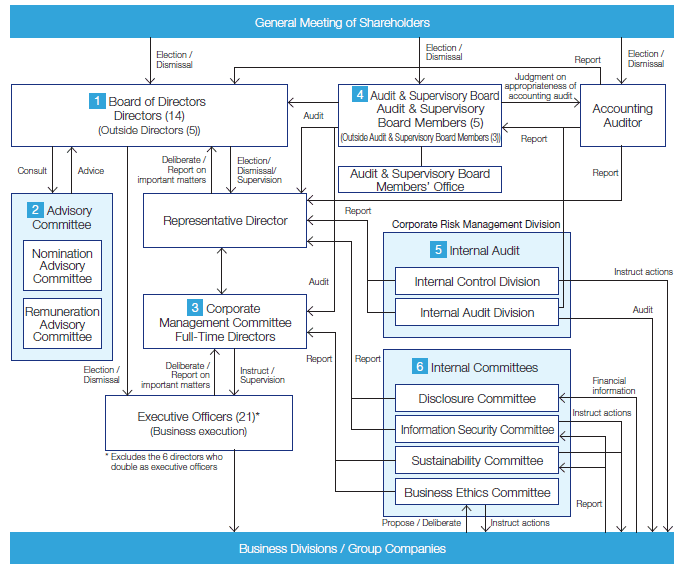 1

Board of Directors

At KDDI, Board of Directors resolutions determine:
Matters prescribed by the Companies Act or other laws and regulations
Matters prescribed by the Articles of Incorporation
Matters delegated for resolution at the general shareholder meeting, and
Other important management-related matters.
For other important management-related matters, their importance is determined according to such factors as the scale of money, business, assets, and investment involved.
These decision standards for importance are not permanent.
Rather, they are reviewed appropriately in accordance with changes in the legal system and the environment in which the Company operates, with the aim of ensuring management speed and effectiveness.
2

Advisory Committee

KDDI has formed a Nomination Advisory Committee and a Remuneration Advisory Committee to discuss with and provide advice to the Board of Directors to maintain both transparency and objectivity on the system of nomination of executive candidates and Audit & Supervisory Board member candidates and the level of remuneration for executives.
The Chairman, Vice Chairman and half or more of the members of these committees are outside directors.
3

Corporate Management Committee

Comprised of internal directors, executive officers and others, the Corporate Management Committee deliberates and decides on important matters related to business execution at the Company and its subsidiaries.
4

Audit & Supervisory Board/Audit & Supervisory Board Members

Audit & Supervisory Board members conduct their audit work based on audit policies and plans established by the Audit & Supervisory Board, and carry out their work by attending meetings of the Board of Directors, the Corporate Management Committee, and other major internal meetings. The Audit & Supervisory Board receives reports on the audit methods of Audit & Supervisory Board members and their results, discusses them, and offers its opinions, as appropriate, at meetings of the Board of Directors.
5

Internal Audit

KDDI conducts periodic internal audits targeting all the operations of the Group, and regularly reviews the appropriateness and effectiveness of internal controls.
The results of these internal audits are reported to the president and the Audit & Supervisory Board members, along with recommendations for improvement and correction of any problems.
6

Internal Committees

KDDI has put in place the KDDI Group Business Ethics Committee to deliberate and make decisions on compliance-related items for the Group. We have also established a Disclosure Committee to gather financial results information to be disclosed at fiscal period-ends, as well as an Information Security Committee to ensure overall information security regarding information assets, and a Sustainability Committee, set up to deliberate on sustainability related matters such as CSR and the environment.
Company with an Audit & Supervisory Board
Composition of Directors and Advisory Committees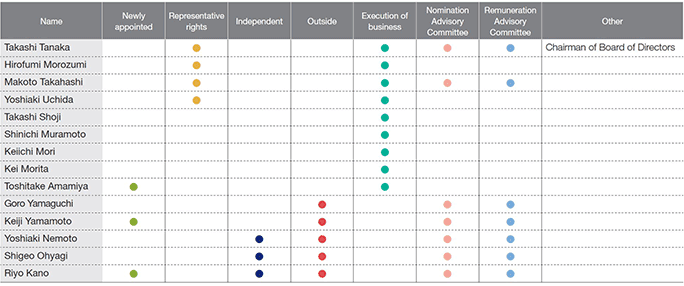 During the fiscal year ended March 31, 2019, the Nomination Advisory Committee met on three occasions and the Remuneration Advisory Committee met on two occasion.
Policy and Procedure for the nomination of Director and Audit & Supervisory Board member candidates by the Board of Directors
The nomination of Director and Audit & Supervisory Board member candidates involves deliberation by a Nomination Advisory Committee whose chairman, vice-chairman, and a majority of members are comprised of outside directors, following a selection of candidates based on the below-stated policy. In addition, candidates for Audit & Supervisory Board member are approved by the Board of Directors following approval by the Audit & Supervisory Board.
Policy regarding the balance of knowledge, experience and ability of the Board of Directors as well as its diversity and scale
Accepting the diversity of human resources and utilizing the diverse knowledge, experiences, and skills of each employee are important drivers of growth for the Company that aims for the "Integration of Telecommunications and Life Design," and we believe that ensuring diversity in the Board of Directors will also lead to good management decisions.
The Company believes that the overall Board of Directors should include members with advanced specialized knowledge and diverse perspectives when making decisions including matters that are important from a management perspective and matters that legally require supervision. Accordingly, in principle the board includes the following members.
Director Candidates
People with specialized knowledge and experience in various fields of business
People who have a shareholder perspective and possess management knowledge
People who are highly independent and have specialized knowledge appropriate to a supervisor
Currently, the Company has appointed one woman as an independent outside director.
KDDI recognizes the need to appropriately limit the size of the Board of Directors in order to achieve both management effectiveness and speed. Accordingly, the Articles of Incorporation limit the number of members to 20.
Audit & Supervisory Board Member Candidates
People who are able to supervise overall management from a perspective independent from directors and who have the extensive experience and broad-ranging insight to enhance audit appropriateness.
Decision Standards for Independence of Outside Executives
In addition to the independence standards provided by financial instruments exchanges, the Company has formulated its own standards. Specifically, these standards state that people hailing from business partners making up 1% or more of the Company's consolidated net sales or orders placed are not independent. Other matters are given individual consideration depending on circumstances.
Analysis and Evaluation of the Effectiveness of the Board of Directors
Objective of Board of Director Evaluations
To ensure a correct understanding of the current status of its Board of Directors and to work toward continuous improvement, KDDI has its Board of Directors conduct regular annual self-evaluations.
Overview of the Evaluation Process
The Company verifies the effectiveness of its Board of Directors based on an evaluation by the directors and the Audit & Supervisory Board members. The evaluation is conducted in questionnaire form, combining a four-grade rating scale with free space for comments.
This supports our efforts to validate the effectiveness of our initiatives and uncover any areas for improvement from both a quantitative and qualitative perspective.
The evaluation targets the most recent one-year period, and is conducted regularly on an annual basis. The results are reported to the Board of Directors, which then considers future countermeasures.
Key items for evaluation are as listed below.
Operation of the Board of Directors (including composition, documentation and explanations, provision of information, etc.)
Management supervision (including conflicts of interest, risk management, and management of subsidiaries, etc.)
Medium to long-term discussions (participation in medium-term management planning, monitoring of plan execution, etc.)
Overview of Evaluation Results
[Summary]
The Company's Board of Directors was found to be managed appropriately and functioning effectively.
The following points were found to be rated particularly highly.
Outside directors and Audit & Supervisory Board members with a wide range of experience in each field join discussions with diverse and multi-faceted perspectives.
Adequate time is secured for outside directors and Audit & Supervisory Board members to speak, and sincere responses are made to their opinions and questions.
[Improvements over the Previous Evaluation]
Issues indicated in the previous evaluation were found to have been improved, such as sharing the status of achieving the medium-term management plan and periodically providing opportunities for discussing long-term prospects for the management environment and strategies such as policies for handling environmental changes.
[Future Issues to be Addressed]
The Company has received an opinion stating that it would be desirable to further enhance discussions on the medium- to long-term management strategy from various perspectives in the future.
Therefore, in the fiscal year ending March 31, 2019 we plan to have several debates on how to formulate the next medium-term management plan.
We will continue to work toward ongoing improvement.
Reasons for Appointment as Outside Officers and Principal Activities (FY2018.3)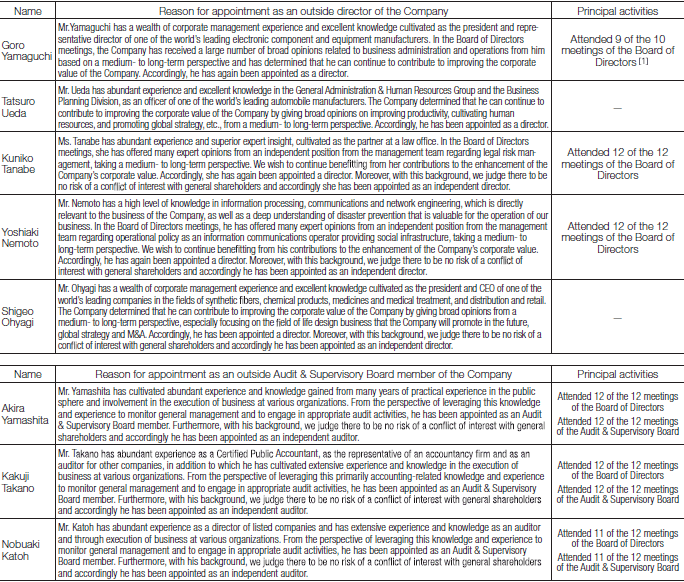 [1]

Attendance and number of meetings following new appointment as director at the 33rd Annual Shareholders Meeting held on June 21, 2017
Support for Outside Directors and Audit & Supervisory Board Members
In addition to notifying outside directors and outside Audit & Supervisory Board members in advance of the schedule and agenda for meetings of the Board of Directors, proposal materials are also distributed prior to the meetings to encourage understanding of the agenda items and invigorate discussion at the meetings.
Questions are also accepted in advance and are used to enhance explanations on the day of the meeting, in an effort to provide for more substantial deliberations.
Besides the Board of Directors meeting, the Company ensure sufficient opportunities and time for meetings between executive directors and outside directors and Audit & Supervisory Board members, or meetings without executive directors, in order to receive appropriate involvement and advice from outside directors/Audit and Supervisory Board members regarding various management issues.
On April 1, 2006, KDDI established the Auditing Office to support Audit & Supervisory Board members, including outside members.
Policy on Strategic Shareholdings
KDDI believes that participating in tie-ups with a variety of companies is essential to providing its customers with increasingly diverse and advanced services.
To this end, our basic policy is to engage in strategic shareholdings after comprehensively judging that such holdings will contribute to KDDI's business and support the sustainable growth and increased corporate value of the entire KDDI Group over the medium to long term.
Accordingly, if determined to be necessary given such factors as the scale and importance of these holdings, the purpose and rationality of such holdings is explained to the Board of Directors.
Standards for Ensuring Appropriate Exercise of Voting Rights on Strategic Shareholdings
Given the extensiveness and diversity of the KDDI Group's businesses, we believe that setting uniform standards throughout the Company could impair the corporate value of companies issuing shares held by the Group, as well as of the KDDI Group. For this reason, while respecting the intentions of share-issuing companies we set as our standard for exercising voting rights the sustainable growth and increased corporate value of the entire KDDI Group over the medium to long term, taking into overall consideration such factors as periodic business results and the results of dialogue with issuing companies.
To guard against decisions skewed toward short-term business interests, we have created a process for exercising voting rights that involves checks by the management team, thereby ensuring that management decisions are made from a Companywide perspective.