Corporate Information

Investor Relations

Corporate Governance

Remuneration for Executive Members
Remuneration for Executive Members
To ensure the transparency and fairness in executive compensation systems and levels, the Company has established a Remuneration Advisory Committee to conduct deliberations and provide advice to the Board of Directors in accordance with the consultation thereof.
Compensation (base salary, bonus, stock compensation) for each director is decided at the Board of Directors meeting based on the advice of the Compensation Advisory Committee. Furthermore, in determining performance-linked bonuses and stock compensation, we increased the ratio of KPIs related to the SDGs in the fiscal year ending March 31, 2022. For more details about the method of calculating executive remuneration, please refer to the securities report.
Types and Methods for Determining Remuneration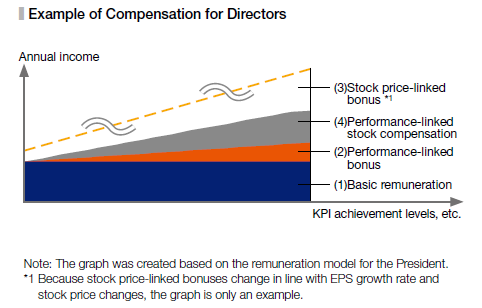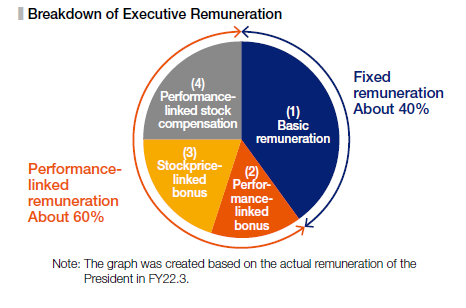 Reference: Performance-linked stock compensation and stock price-linked bonuses
Performance-linked stock compensation was introduced from 2015 for the compensation of directors engaged in business execution in order to increase the willingness to contribute to medium- to long-term performance improvement and corporate value improvement.
In addition, from the fiscal year ended March 31, 2020, the Company introduced "stock price-linked bonuses" with the aim of providing a strong incentive to achieve medium-term management plan targets, and increasing the linkage between remuneration for Directors and the stock price. In this system, "EPS [1] growth rate," which was set as a target figure for the medium-term management plan, and "stock price change rate," which is directly linked to changes in share price, are used as performance indicators.
[1]

Basic Earnings per share
Results of Remuneration Advisory Committee Meeting (FY2021.3)
The Remuneration Advisory Committee met one time, and all members attended.
They discussed the amount of performance-linked compensation provided in the fiscal year ended March 31, 2020, the fairness of the level of compensation for the Company's directors and Audit & Supervisory Board members, and the general outline of the stock price-linked bonus system.