Health-Focused Management
President's Message
In April 2018, the KDDI Group announced the "KDDI Group Declaration of Health-Focused Management" and set forth three basic policies.
KDDI Group Declaration of Health-Focused Management
In our mission statement we declare: "The KDDI Group values and cares about the material and emotional well-being of all its employees and delivers a thrilling customer experience by always going further than expected with the ultimate goal of achieving a truly connected society." As the success of the company depends on a happy and energized workforce, we see the health of our employees as a key agenda for the management of the KDDI Group. We hereby declare our commitment to health-focused management, through which we will support the health of our employees at the organizational level as we strive for a prosperous future.
The KDDI Group will:
Encourage and help our employees to take proactive steps to improve and maintain their health.
Work closely with the KDDI Health Insurance Union and the KDDI Workers Union to improve the physical and mental health of our employees and their families.
Embed a "health first" culture within the group, where the pursuit of physical and mental health creates an energized and productive workforce.
The KDDI Group will continue to maximize the productivity of each employee by creating an environment in which employees are physically and mentally healthy and motivated to work. We will thereby contribute to the sustainable growth of the KDDI Group and the realization of a sustainable society.
September 2022
President, Representative Director
Makoto Takahashi
KDDI Group Declaration of Health-Focused Management and Promotion Framework
To promote employee health, the foundation of health management, we work closely with the KDDI Health Insurance Union and the KDDI Workers Union to improve the physical and mental health of our employees.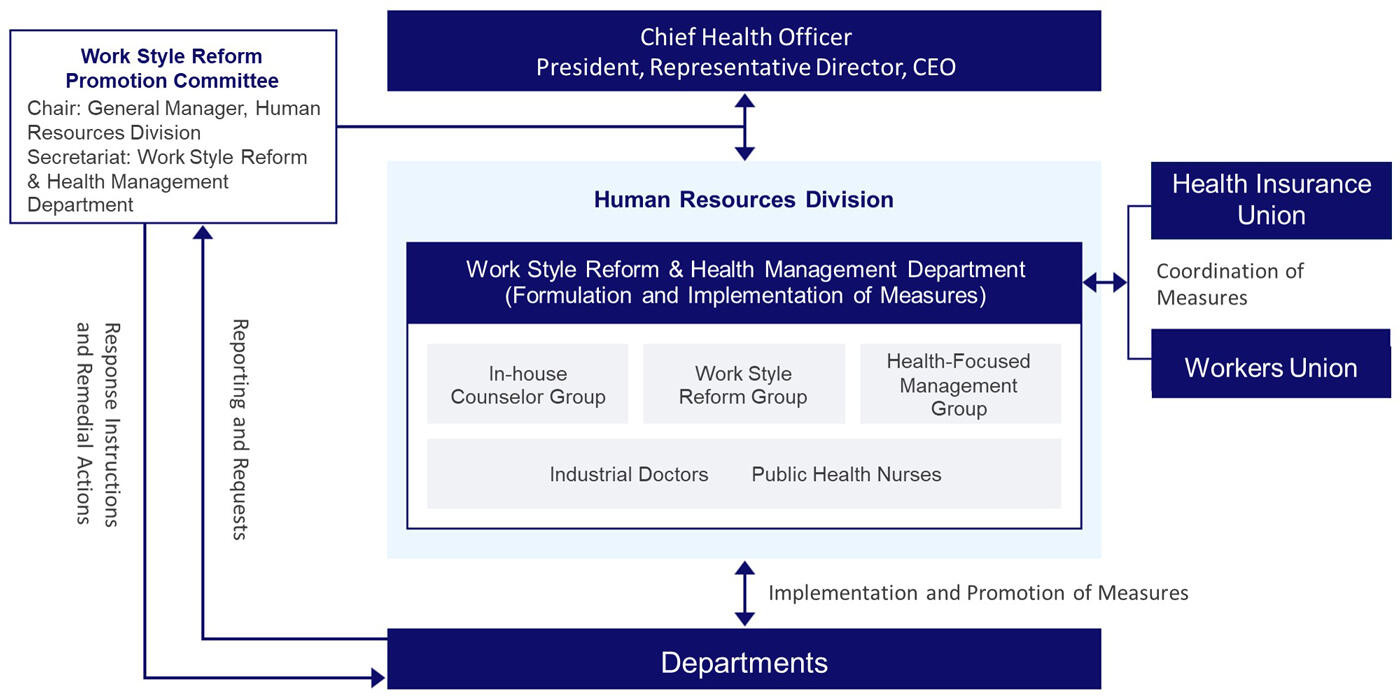 The Goals of Health-Focused Management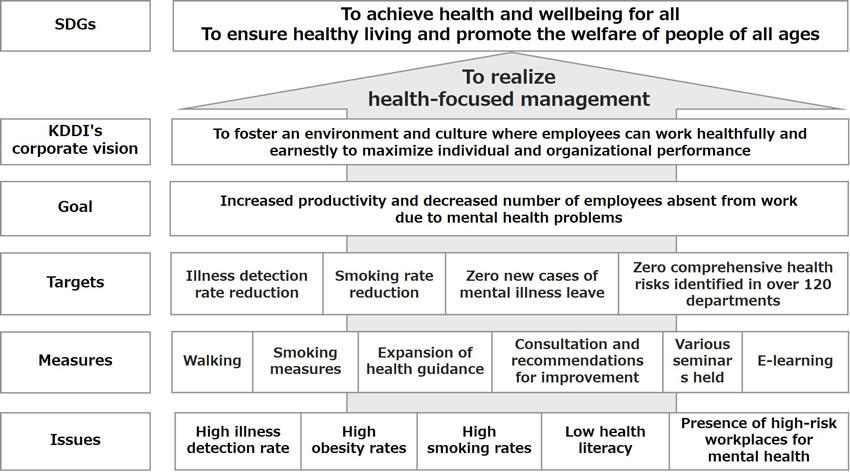 KDDI continues to be a dynamic company where employees can work in good health and with vitality. We set promotion points that serve as health indicators and plans and implements measures to achieve the targets.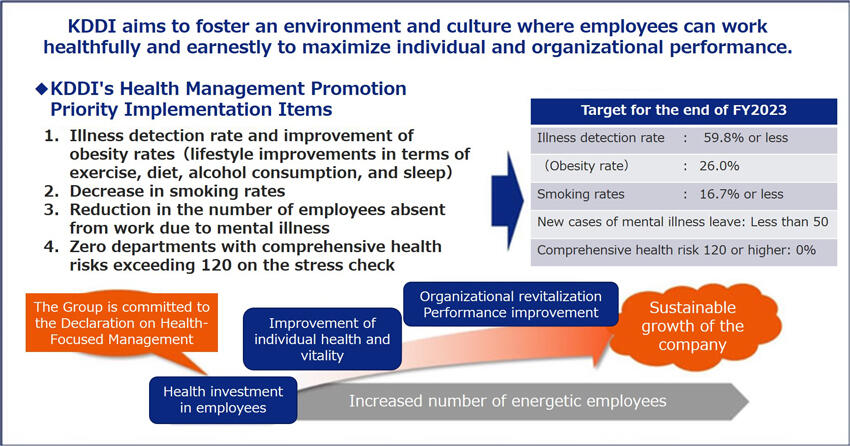 Analysis of employee health awareness
By conducting periodic surveys of our employees' awareness of their health, KDDI can consider measures that will not only improve the health issues that employees are aware of but will also improve lifestyle habits that are difficult for them to recognize on their own.

Health-Focused Management Strategy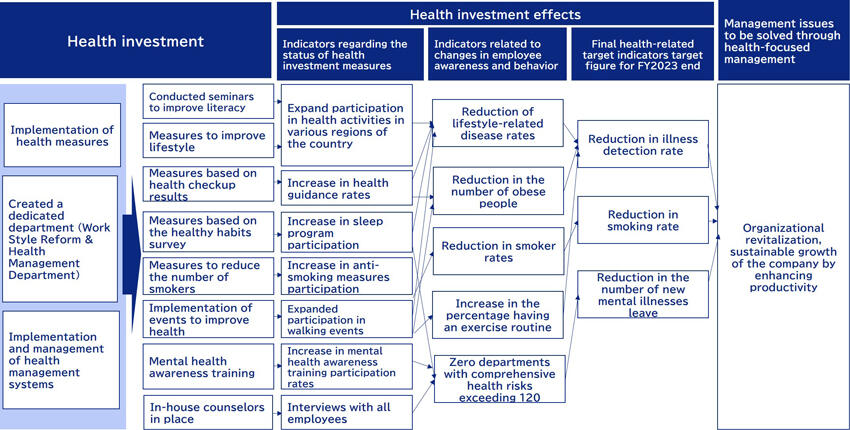 FY2021 Concrete Initiatives
[1] Reduction of Mental Illness among Employees
■ Interviews with All Employees
In-house counselors conduct interviews to check on their health, jobs, work environment, human relationships, etc.
After the interview, if signs of mental illness or long working hours are observed, the company responds in cooperation with medical staff and organizational leaders. In addition, we provide feedback of employees' voices to the organization and relevant departments and discuss solutions at the "Work Style Reform Promotion Committee". Surveys of interviewees were also conducted to improve the knowledge and skills of in-house counselors.
■ In-house Counselor System
Starting in fiscal 2019, 41 in-house counselors conduct 100% of the 2 x 30 minute/person interviews twice a year (1st and 2nd half of the year) with approximately 13,500 employees to identify employees who show early signs of mental instability and eliminate long working hours.
After early detection, follow up in cooperation with industrial doctors and public health nurses.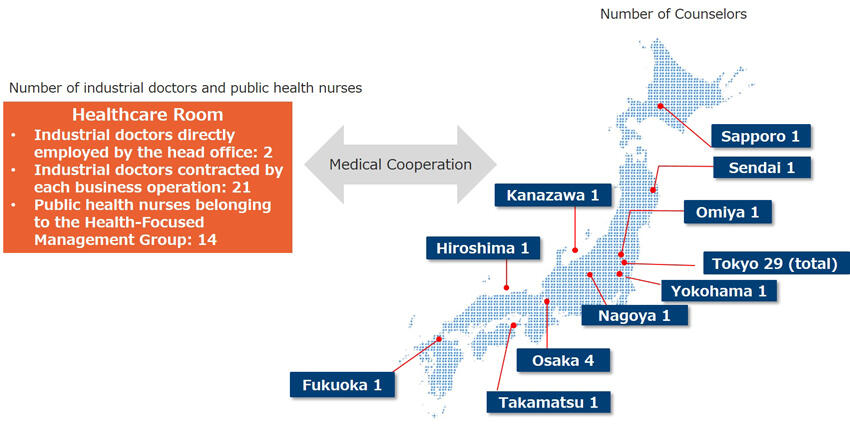 ■ Education to Improve Work Environment

■ Conduct Stress Checks
Employees surveyed in FY2021: 88.3%
Feedback of group analysis reports from in-house counselors to all headquarters
Targeting zero departments with comprehensive health risks exceeding 120 and submitting action plans for improvement.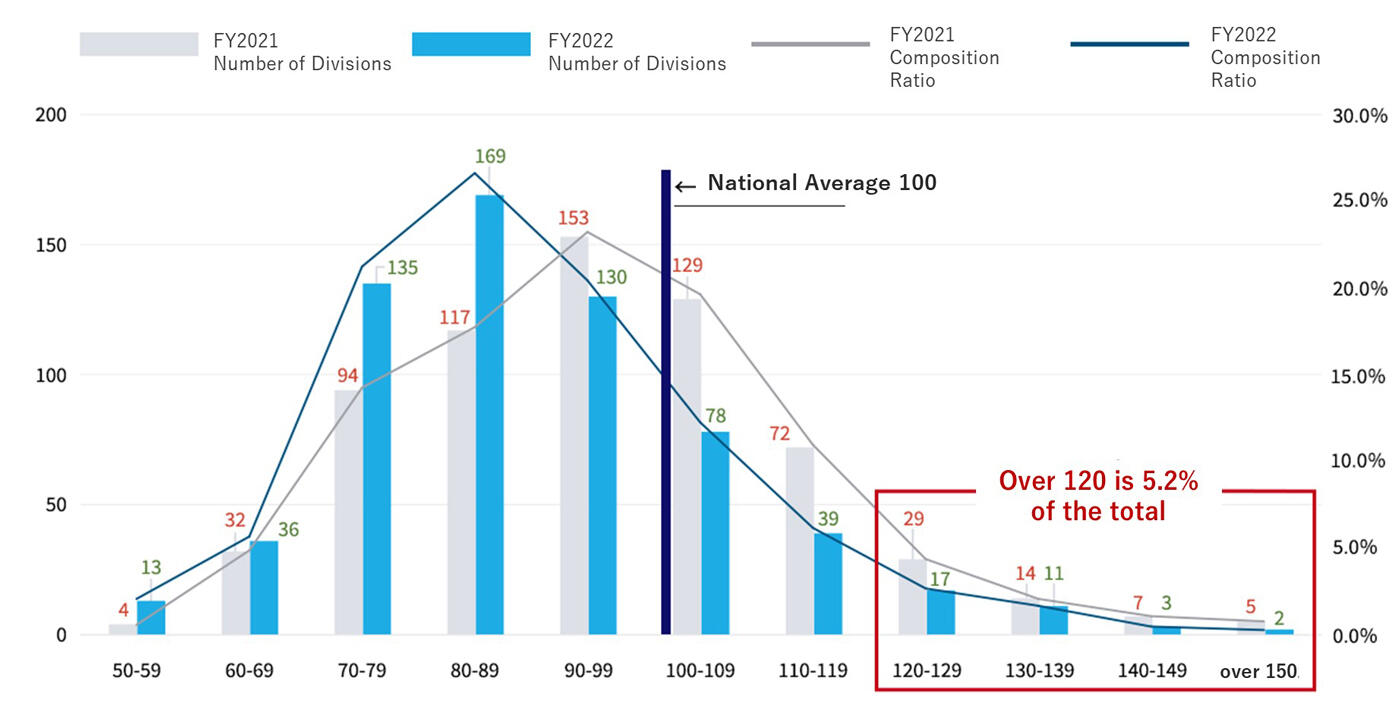 [2] Health Guidance (Before health checkups/After health checkups/Specific health guidance)
Based on regular health exams, KDDI provides health guidance to over 1,000 employees annually who have been found to have lifestyle-related diseases. As a result, the following year's health exams showed improvement in numerical values.
[3] Anti-smoking Initiatives
Start by declaring a quit smoking challenge on a health app.
Employees who successfully quit smoking for three months and are featured in a success story interview will receive health points.
■
Smoking Cessation Online Program
Interested employees receive subsidized access from the Health Insurance Union to an online smoking cessation program. Nurses support smoking cessation across three months.
■
Smoking Cessation Support Desk
Information is provided to smokers by medical staff via e-mail.
Additionally, a smoking cessation support desk is available for consultation at any time.
[4] Health Enhancement Events (Walking Sports Festival)
Since in 2019, we distribute a health app to our work smartphones. Challenges to record daily walks and lifestyle habits. Additionally, team entry walking events are regularly held. The number of teams taking part in these events is gradually increasing.
Other events include the KDDI Sports Festival co-hosted with the labor union for all employees.
Walking Event Participation Status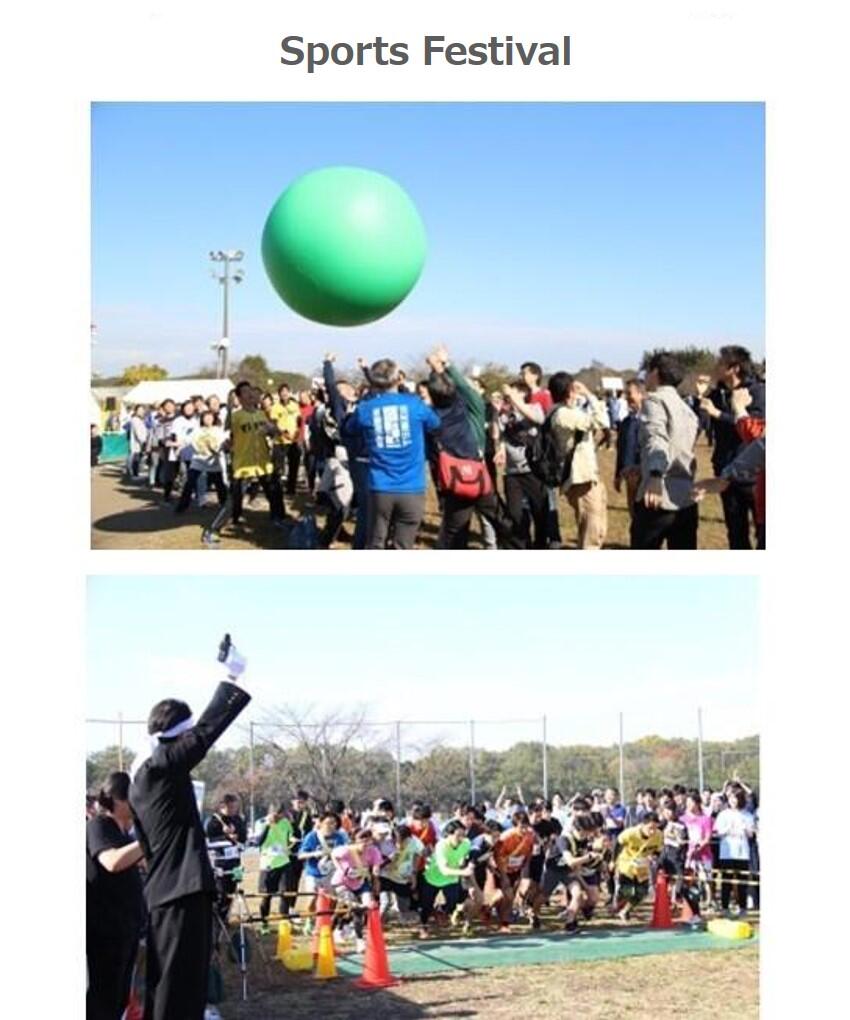 [5] Health Seminars
The importance of periodic checkups for breast cancer which is a health issue particular to women, as well as how to conduct daily self-checkups and how to balance work and treatment if you are diagnosed with breast cancer.
These seminars are held online to help you manage your health.
Participants 90 people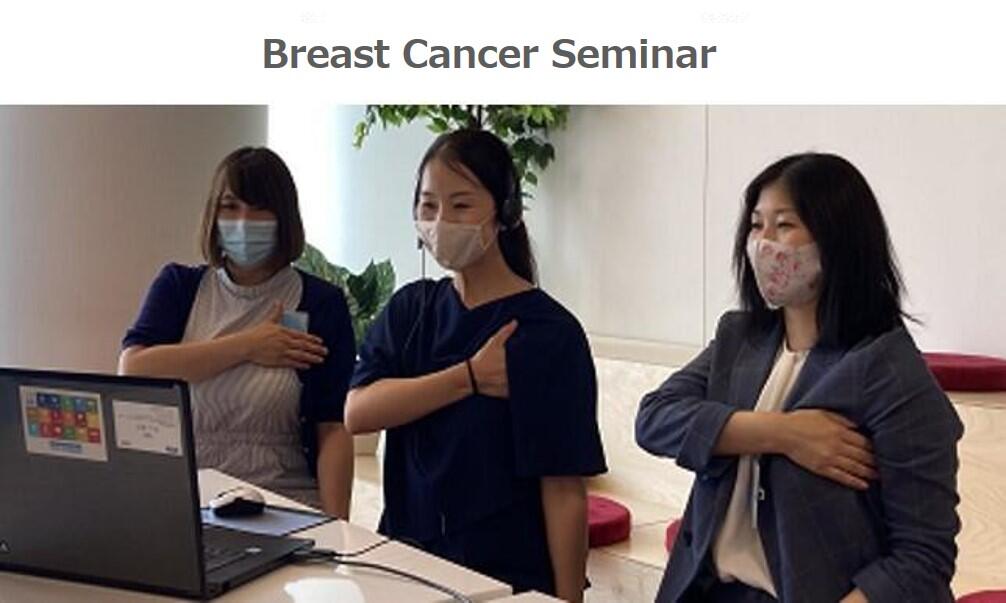 ■
Lifestyle Improvement Seminar
The seminars are held online nationwide to improve employees' health literacy, to improve their own health concerns, and to promote their health promotion efforts.
Information about the seminars is posted on the company's intranet, and employees are able to attend the seminars of their choice.
Status of Lifestyle Improvement Seminars Held Nationwide