KDDI's Approach (Recruiting and Developing Human Resources)
As the working-age population continues to decrease due to the declining birthrate and aging population in Japan, it is said that the country's economic growth will slow down. The market environment of the information communication sector has been changing rapidly and drastically in recent years as we have been experiencing technological innovation, intensified competition on a global scale and the participation of a variety of carriers. To respond to these changes and continue growing in a timely manner, we need to recruit diverse talents regardless of nationality, gender, age or (dis) ability and promote their advancement.
In accordance with the "Satellite Growth Strategy," KDDI regards the recruitment and development of human resources that can play an active role in the 5G-driven evolution of the telecommunications business and focus areas with telecommunications at the core, and the raising of the potential of the company's workforce as the highest priority.
Human Resource Cultivation Management
In the recruitment stage, we have removed the gender query from the application sheet in 2016 to ensure we hire diverse talents.
We also have a variety of training and qualification schemes that give contract employees, such as mass-retail sales advisors, talent development opportunities. Those who wish can apply for a permanent contract, and 37 contract employees became regular employees through this scheme in fiscal 2021.
We execute various measures for effective employee growth, including on-the job training (OJT) and off-the-job training (OFF-JT). Additionally, we create a drive to grow in employees by providing each with proper evaluations and feedback. We have also prepared various programs for those employees passionate about growing themselves and leading changes that encourage them to work on actively cultivating their potential instead of staying passive.
Also, we support the acquisition of company-designated qualifications by paying examination fees and other related expenses.
KDDI Human Resource Cultivation Measures
| Program | Content |
| --- | --- |
| Executive assistant | Employees work as directors' assistants, learning directly the management mindset. (Every year, one man and one woman are assigned.) |
| Job rotation system | The program is designed to help younger employees think deeply about their career plans for the future they want, and expand the range of experience and take other actions to achieve their personal growth (career development and transfer). |
| Internal recruitment system | The program is designed to support employees in their autonomous career development by creating opportunities for motivated employees to take up the challenge of working in a business area that needs a boost or in a position of a Line Manager (the program also covers the promotion of work to be undertaken by elders). |
| KDDI intra-group sideline working system | Along with the job rotation system and open recruitment system, a system that provides opportunities for practice that differs from the regular work, up to 20% of work hours, with the aim to support their self-sustained career development. |
| Career plan reporting system | Employees can consult with their respective department's general manager on their future career plans based on the reports about their career history and current situation. |
| Stratified training | Employees acquire the knowledge and skills needed for carrying out their work depending on the position or qualifications they have. |
| Basic and advanced skills training | Employees acquire the various business skills commonly needed by everyone in the company. |
| Support for acquisition of qualifications | We pay examination fees and other related expenses for employees who are acquiring company-designated qualifications. |
| Lifelong learning sabbatical program | Employees wishing to study toward a qualification or acquire new skills on a voluntary basis can take a career break of up to three years. |
| Business study abroad | Participants learn global standards for business at an overseas university or through communication with business persons at NPOs or internship. |
| Specialized study abroad | Participants study at an overseas university or specialized institution to acquire advanced specialized knowledge and build human networks with relevant persons. |
| Overseas trainee system | Employees wishing to join the program are sent to an overseas base for a certain period of time and, by conducting business, they learn how to carry out their work in a professional manner no matter the values and business customs of those who surround them. |
| Global employee exchange program | In this program, employees hired overseas are invited to our headquarters in Japan to learn about the business customs, operations and philosophy of the KDDI Group and strengthen their partnerships with foreign customers who have offices in Japan. |
| KDDI DX University | This is a learning platform designed to train and expand internal human resources in order to move ahead with the DX business as KDDI's core business as well as in-house DX. |
Training System by Position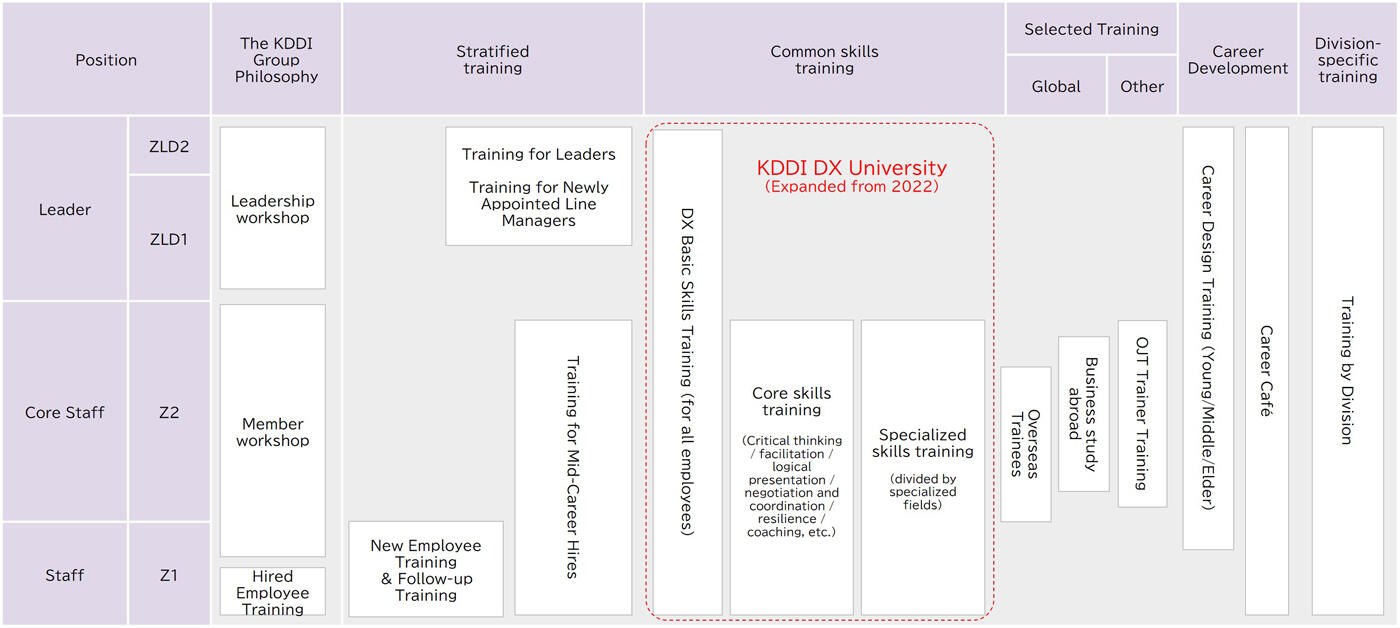 We provide "Executive Director's Philosophy Study Session" for executives.
Evaluation and Remuneration Systems
To ensure the fairness and transparency of personnel evaluation and compensation, KDDI shifted the focus of its evaluation away from job functions and years of service to each employee's commitment to meeting a challenge, problem-solving skills, communication skills, and professionalism.
Each employee also has one-on-one meetings on various subjects with their supervisors in order to maximize the results they have achieved and develop their individual skills.
Through an interview, their supervisor rates these achieved results and the level of their commitment to meeting a challenge before ratings are given by more than one evaluator for the final decision. These evaluations are conducted twice a year for all employees. The ratings of problem-solving skills, communication skills, and professionalism are finalized based on 360-degree feedback and their supervisor's evaluation. All employees are evaluated this way once a year.
As for bonuses, there are two types: corporate performance bonuses that reflect the company's performance and individual performance bonuses that reflect the personal business performance of each employee.
Employee Engagement Survey
KDDI conducts the quarterly Employee Engagement Survey because we believe that if each employee feels motivated and enjoys working, we will continue to grow.
This survey measures employee engagement as KDDI defines, namely each employee's level of "voluntary contribution and motivation toward the company and their work," to make the results into indicators.
The results of the survey are shared real-time with leaders of each organization.
Human Resources Department does not analyze the results of the Employee Engagement Survey or formulate measures using the results.
The leader of each organization will share the results with their respective members and discuss what actions to take for them to work feeling motivated and fulfilled. We believe that this process itself will improve the level of the employee engagement.
We are committed to improving the employee engagement by working on this activity company-wide.
Providing Mid- and Long-Term Incentives for Employees
KDDI has adopted a stock ownership association system (KDDI Employee Stock Ownership Association) as a mid- to long-term incentive for its employees.
The KDDI Employee Stock Ownership Association was established as part of a welfare program for employees (including KDDI Group companies) to join the Association and contribute a certain amount of money to the Stock Ownership Association through deductions from their monthly salaries and bonuses, together with incentive payments from KDDI, in order to purchase KDDI shares each month without undue cost and help build their assets over the medium to long term.
Special Award from President
We have implemented award programs for employees to increase motivation and a sense of solidarity.
President's Award Results
| Award name | Number of awarded cases |
| --- | --- |
| Special Award from President | 1 |
| President's Award | 3 |
| Contribution Award | 1 |
| Best Sales Award | 3 |
| Individual MVP Award | 2 |
(Evaluation period: April 1, 2021-March 31, 2022)