KDDI's Approach (Labor Practices)
We at KDDI regard the health of our employees as a key management issue as stated in the KDDI Group Declaration of Health-Focused Management. We support their health at the organizational level to foster an environment and culture where everyone can work healthfully and earnestly, maximize individual and organizational performance and ensure sustainable growth as a company. We also comply with laws relating to the prohibition of child labor and forced labor, the payment of minimum wage and reducing long working hours.
Starting Salary for University Graduates Compared to Minimum Wage: 165% [1]
[1]

Calculated based on the minimum wage in Tokyo (1,041 yen/hour). Specifically, the formula is 21 days x 1,041 yen x 7.5 hours (as of April 2022)
KDDI Group Declaration of Health-Focused Management
The KDDI Group has released the KDDI Group Declaration of Health-Focused Management as part of its commitment to support every employee's health at the organizational level and bring about a prosperous future. Building on this declaration, we are working on a range of initiatives to drive work style reform, promote mental health care, improve employee health management and look after the health and safety of employees and their families posted abroad, aiming for embedding a "health first" culture.
Work Style Reform
In January 2017, we launched full-scale initiatives for work style reform to promote fundamental changes in perspectives and behaviors toward a work style that is more productive. We also established the Work Style Reform Promotion Committee as part of the initiatives. The committee members consist of General Managers representing Divisions and the General Manager, Human Resources Division is the chair. Since April 2018, the heads of strategic subsidiaries have also been participants. In FY2019, we set up a project team to facilitate employees' diverse work styles. Since FY2020, in accordance with the KDDI Declaration of New Work Styles, the team has been working to establish an environment (e.g., the promotion of DX) that enables diverse work styles, and working on the vision of new work styles under the KDDI Version Job Style Personnel System, thereby further driving work style reforms to transform KDDI into a human resource-first company.

Operational Framework of the Work Style Reform Promotion Committee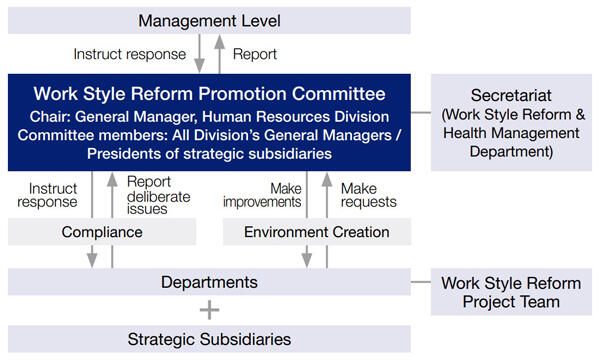 Initiatives and Results of Work Style Reform in Fiscal 2021
Held monthly Work Style Reform Promotion Committee meetings (topics: eliminating long working hours, increasing productivity, etc.)
For the purposes of appropriate work schedule management and of early support for employees who show signs of mental instability, we interviewed all 13,000 employees working in our offices in Japan, including loaned employees, twice a year.
We mandated all employees to log off their computers and leave the office within half an hour after they complete their work for the day.
We mandated all employees to have a nine-hour interval between the end of working hours and the start of working hours the following day.
We created a system to record and manage the hours each employee enters and exits the building as well as the hours they log off their office computers, and looked into all discrepancies between the system log and the hours reported by employees.
Promoting the use of annual paid leave. The use rate for planned annual leave in FY 2021 was the same as the previous year
FY2019: 66.9% → FY2020: 73.9% → FY2021: 73.9%
Introduced robotic process automation (RPA)
Made internal systems accessible to mobile devices
To have quality meetings, each division promoted action plans for meeting reform.
The office was refurbished to encourage new work styles
(Installation of conference booths and devices, expansion of communication tools such as Zoom, expansion of online distribution studios, full-scale introduction of visualization apps for "where I belong," etc.)
Expand shared office locations and promote utilization
Revised telework work rules to promote hybrid teleworking and in-office work styles
Organization of the Work Style Reform & Health Management Department (as of April 2022)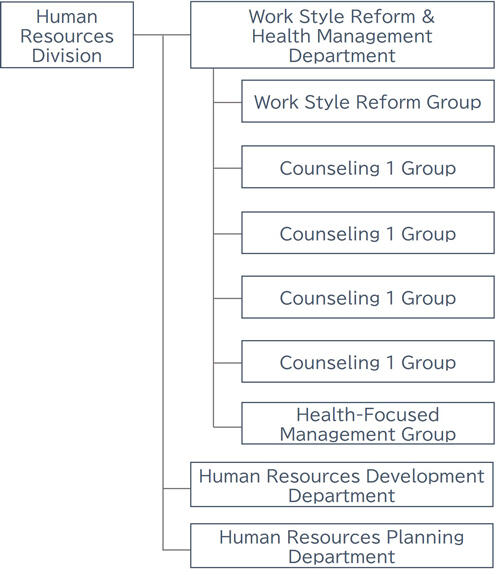 KDDI Version Job Style Personnel System
In August 2020, we introduced the KDDI Version Job Style Personnel System that aims to achieve sustained growth of KDDI through each employee's professionalism. In this system, "Job Style" is used to define the areas of job functions. Employees' achievements, commitment to meeting challenges, and skills are directly rewarded, thereby "creating and nurturing professionals."
To achieve sustained growth, KDDI is working to expand new business areas while its business continues to revolve around telecommunications. This means that there will be more fields where our employees can pursue successful careers.
To expand our business areas, we need talented human resources with more specialized skills and knowledge. KDDI hopes that all employees actively acquire skills they can apply in new business areas while they leverage their years of experience in the telecommunications business, so that they will become professionals capable of working successfully outside the company.
Through these actions, we will achieve transformation to a "human resource-first company," that is, a company that values employees as the most valuable resources fundamental to management.