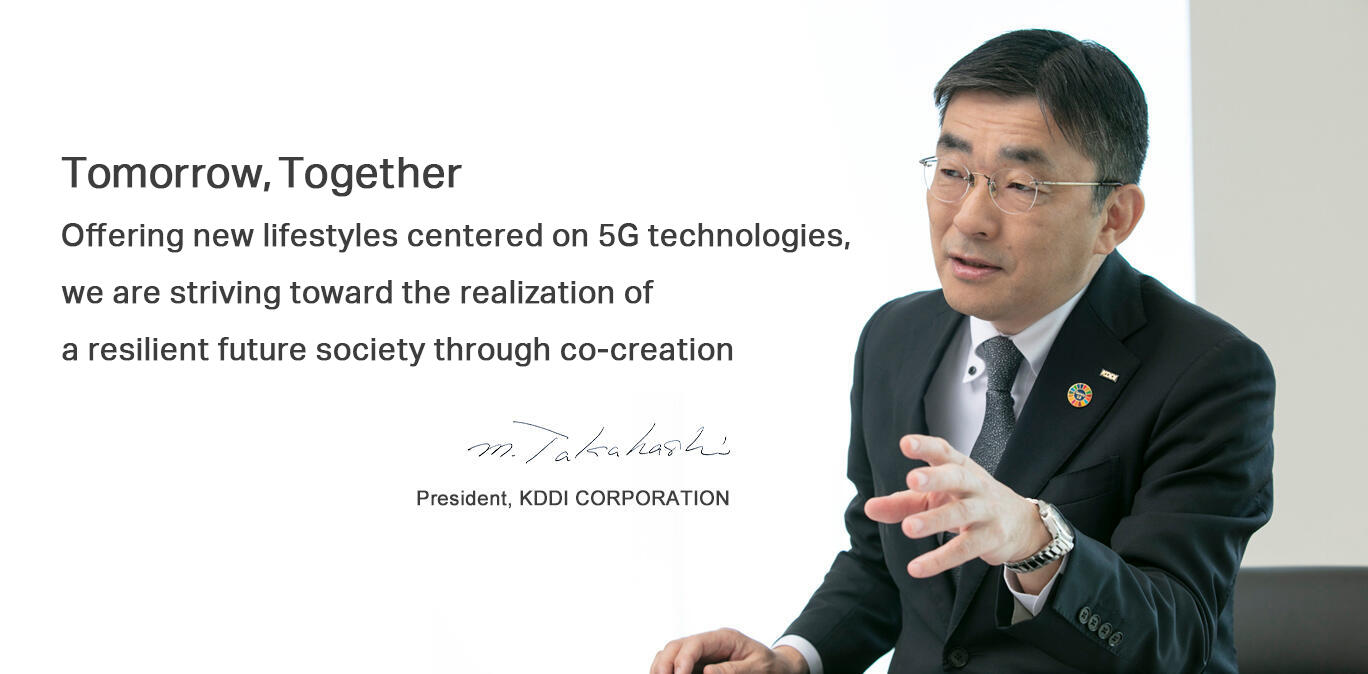 First of all, I would like to express my sincere appreciation to all our stakeholders for your continuous support.
Since its establishment, KDDI has made realizing a truly connected society part of the KDDI Group Mission Statement. Our business is strongly intertwined with society and directly connected to customers' lives. Under the slogan Zutto, Motto, Tsunagu Zo, au (Connecting more and always with au), we aim to provide telecommunications services that are always reliable, no matter what with the intention of delivering a thrilling customer experience by always going further than expected.
The impacts of climate change are worsening year by year and extreme weather disasters are becoming increasingly frequent and severe within and outside of Japan. Discussions on climate change will take place in a series of events this year, including the Climate Change Summit, G7 Summit, and COP26 to further promote global initiatives. As the effects of the COVID-19 pandemic drag on, it has become a global issue to construct resilient social infrastructure that is resistant to environmental changes.
KDDI sets the company vision of "Contributing to the sustainable growth of society."
This April, we expressed our support for the proposal of the Task Force on Climate-related Financial Disclosures (TCFD). We will promote information disclosure and communication in line with the TCFD proposal and proactively drive a shift to renewable energy among other efforts, to achieve net-zero CO2 emissions by 2050.
KDDI and KDDI Research announced "KDDI Accelerate 5.0" as a concept that envisions the future society of 2030. The concept is aimed at accelerating the realization of Society 5.0 with 5G, an initiative promoted by the Japanese Government. By upgrading the environment in three layers - the network layer including the roll out of 5G, the platform layer, and the business layer - utilizing technologies in seven fields that support the three layers and the orchestration technology, KDDI has embarked on an initiative to create a resilient future society that contributes to establishing new lifestyles for consumers as well as to spurring economic development and solving social issues in Japan.
Toward Sustainable Growth
While promptly responding to the rapidly changing environment, KDDI strives to achieve growth on axes of sustainable growth of existing businesses and challenge to new innovation, to pursue our medium- to long-term vision based on the medium-term management plan (April 2019–March 2022) which will complete this year.
In order to contribute to the sustainable growth of society and businesses, KDDI is advancing sustainability activities centered on six material sustainability issues linked with the medium-term management plan, across all of its business segments. Furthermore, in the "KDDI Sustainable Action"—KDDI's initiatives for the SDGs aimed at 2030—we identified eight fields of social issues for KDDI to focus on in consideration of the magnitude of social issues and the business sectors KDDI can contribute to as a telecommunications operator and set specific targets that will contribute not only to economic values but also to social and environmental values. We do not view social issues merely as risks; we also consider them opportunities to leverage the unique strengths of KDDI. We strive to solve diverse social issues while raising profit as a business, such as by providing inexpensive, high-quality telecommunications services in developing countries and spurring regional revitalization using 5G, IoT, and other technologies.
The outbreak of COVID-19 has suddenly changed the everyday lives that we used to take for granted, accelerating the digital shift in all areas of society. Along with that change, the role of telecommunications is becoming more and more important. We, as a telecommunications company, are determined to fulfill the mission of connecting communication by building a reliable communication infrastructure that ensures communication service at all times and under any circumstances and establishing an early recovery support system. KDDI is united in providing our utmost effort to offer resilient and high-quality telecommunications services around the clock, 365 days a year.
In addition, to ensure ongoing sustainable growth amid a business environment undergoing constant and profound change, employees and organizations will require a high degree of autonomy and growth. KDDI considers human resources its most important resource. With the aim of transforming into a company that puts human resources first and has made their development and enhancement the foundation of management, we are working on this across three pillars: introducing KDDI Version Job Style Personnel System, realizing Declaration of KDDI New Work Styles, and promoting Internal DX (Digital Transformation).
This corporate attitude has penetrated into the group as the KDDI Group Philosophy which defines perspectives and code of conduct that top management and employees should share. Due to the synergy effect with our corporate governance system that secures transparency and fairness, a more solid management system has been established.
When our business growth and contribution to society are integrated to create a virtuous cycle, KDDI's growth will be a strength to help society grow.
The KDDI Group works to connect and protect lives, connect day-to-day lives, and connect hearts and minds. Through KDDI Sustainable Action, KDDI will aim for the sustainable growth of society and the further enhancement of our corporate value.
As we move forward together, I would like to express my sincere appreciation for your continued support and guidance for the KDDI Group.
May 2021
Makoto Takahashi
President, KDDI CORPORATION