Corporate Information

Sustainability (The Environment & Society)

KDDI's SDGs

Developing Human Resources for the Next Generation (Connecting Day-to-Day Lives)

Connecting day-to-day lives

Developing human resources for the next generation

KDDI will disseminate an easy-access education environment for everyone by integrating education and technology to raise the ICT education of Japan to the top of the world and build a solid foundation for sustainable growth.
Social Issue
Serious educational inequalities in Japan due to poverty and Japan's significantly lagging ICT education at the elementary and middle school level
Case 01
Virtual Reality Experience of the Japanese Antarctic Research Expedition in KidZania!
KDDI provided cutting-edge technologies to the limited-term Antarctic Research Center pavilion including a dome-shaped virtual reality space in KidZania managed by one of our Group companies. Children learn about the Antarctica as Japanese Antarctic Research Expedition members and marine biologists through activities that combine advanced technologies and observe penguin numbers in the Antarctica. We provided an opportunity for children to learn about the future of the global environment through the experience of working at the Antarctic Research Center.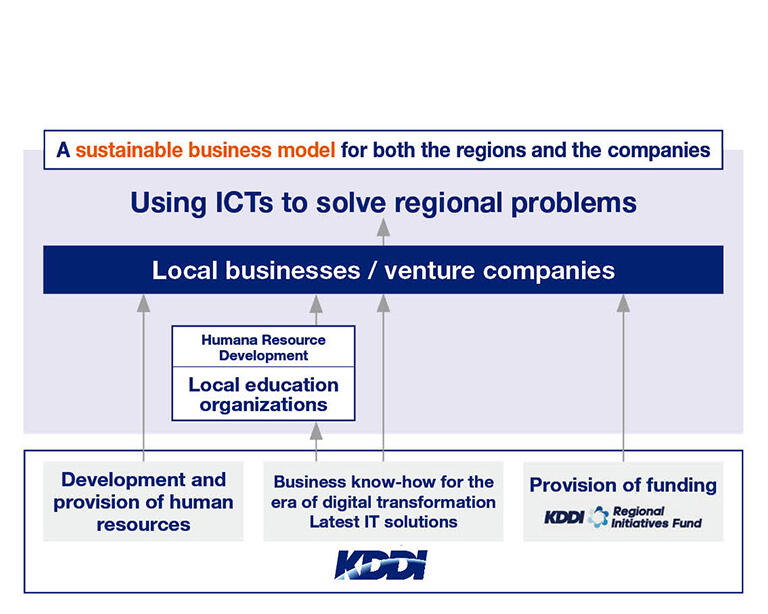 Case 02
Establishment of a Sustainable Business Model for Both Regions and Companies
KDDI believes that developing regional companies and human resources that support ICTs is an important element for realizing regional revitalization. That is why KDDI promotes coordination with local educational organizations in building environments that arm local residents with the latest know-how regarding the starting of businesses, ICTs, and management with 5G in the regions. In addition, we provide financial support through a fund we created to invest in local companies and venture companies that pursue regional revitalization.