Stakeholder Engagement: Our Approach and System
Stakeholders that influence our businesses are diverse, ranging from customers, shareholders, business partners, employees and their families to local communities, etc. We at KDDI implement various activities to offer new, satisfying experiences to all stakeholders in our business operations.
We also use the GRI Sustainability Reporting Standards, SASB, IIRC, ISO 26000 and other global sustainability standards; JIS Z 26000, Environmental Reporting Guidelines, Guidance for Collaborative Value Creation and other domestic standards; and checklists that consist of questions we receive from investors. With these, we create and implement policies for assessing our current conditions and addressing management issues.
The results of engagement efforts are not only reported and shared within the company but also reported at relevant committees and management meetings and reflected in the decision-making process. KDDI values the dialogue with all our stakeholders who support us. We will continue to build up collaboration with our stakeholders and tackle societal issues to contribute to the development of a truly connected society
Stakeholder Correlation Diagram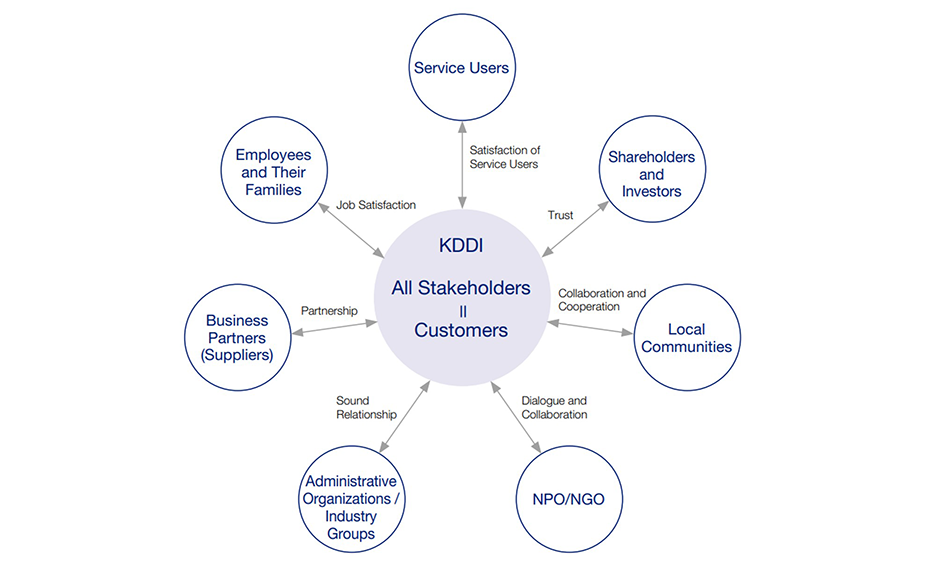 Stakeholder Dialogue
We conduct stakeholder dialogue led by the Executive Officer of Sustainability. Through the dialogue, we incorporate the opinions and requests of stakeholders in our corporate management to build schemes for making further improvements.
In fiscal year 2021, we held "Analyst Lectures" in-house, in which analysts were invited to speak on the theme of "KDDI's SDGs" and share their evaluation and expectations of KDDI's efforts. We also held an "SDGs divisional general manager study session" for KDDI and KDDI Group executives to learn how to implement sustainability management using examples of leading sustainability companies.
Results of Stakeholder Engagement
Service Users
We strive for the satisfaction of our service users (customer experience) by living up to their trust and offering safe and valuable products and services.
Communication methods
FY2021 Results
Content
Influence on the management and business activities
Releases on media, websites and social media
Year round

Spread information about the company and business activities

Spread information appropriately

Inquiries at customer center (telephone/web)
Year round

Response to inquiries from customers
Share feedback to improve our products and services across the company

Improve customer experience
The departments in charge improve convenience of products and services and guarantee safety

au Shop service counters/retail networks
Year round
Shareholders and Investors
We work to build a relationship of trust through honest and fair disclosure of information and active communications.
Communication methods
FY2021 Results
Content
Influence on the management and business activities
General Meeting of Shareholders
Once

Share business reports, consolidated financial reports, financial statements, auditors' reports

Strengthen governance
Deliver information using websites and other information tools with a sincere attitude
Promote efforts to achieve SDGs

Results briefing
Four times

Report financial results and business initiatives, etc.

Disseminating information through Shareholder Communication
Twice
Session with institutional investors in Japan and abroad
Over around 660 times

Explain and exchange opinions on financial results and business initiatives, etc.

Seminar for investors
Several times

Specific sessions such as SDGs briefings, seminars for private investors, etc.

Spread information through website
Year round

Dissemination of information such as various reports, documents and details of initiatives
Local Communities
We collaborate and work in partnership with local communities and fulfill our duties as a corporate citizen.
Communication methods
FY2021 Results
Content
Influence on the management and business activities
Social contribution programs in each region
104 times (total)

Exchange opinions through local administrative organizations, etc.
Interact with local residents and contribute to local safety and development

Reflect opinions on the environment conservation activities
Solve social issues in partnership with administrative organizations and local communities

Information Ethics Classes (KDDI Smartphone and Mobile Phone Safety Classes, Raise Disaster Risk Reduction Literacy with Your Smartphone) and environmental education held at schools and community facilities
3,355 times (total)
NPO/NGO
We contribute to a better society through dialogue and cooperation.
Communication methods
FY2021 Results
Content
Influence on the management and business activities
Activities funded by the KDDI Foundation
Year round

Practice social contribution activities across the world
Participate in progressive initiatives

Understand the social issues and needs in each community

Events hosted in cooperation with NPO/NGO
Year round
Administrative Organizations/Industry Groups
We comply with the law and maintain sound relations.
Communication methods
FY2021 Results
Content
Influence on the management and business activities
Participation in conferences/councils
Year round

Collect information and exchange opinions

Make proposals on various guidelines and deregulation

Participation in Initiatives
Year round
Employees and Their Families
We continue to be a dynamic company that provides job satisfaction to all employees.
Communication methods
FY2021 Results
Content
Influence on the management and business activities
Employee Awareness Survey (Employee Engagement Survey)
Four times

Conduct surveys on employees' motivation to actively contribute to the company and their work (The company aims to maintain an employee engagement score of "72" or higher, which was achieved in the 4Q survey of fiscal 2021.)

Analyze the state of companywide organizational culture and identify issues to be tackled in each department
Respect human rights

Excitement Tours
Twice

Direct communication between employees and the President

Three times

Direct communication between other executives, such as board members, and employees

Opinion exchanges with the labor union
About 100 times

Discuss and promote mutual understanding about labor management issues

KDDI Sports Festival (Co-hosted with the labor union)
― [1]

Create a sense of unity through encouraging interactions among KDDI Group employees including their families and management

Create a sense of unity throughout the company
[1]

The project was not conducted due to the spread of COVID-19
Business Partners (Suppliers)
We build partnerships based on mutual trust and carry out appropriate business activities with fair and open transactions.
Communication methods
FY2021 Results
Content
Influence on the management and business activities
Responsible Procurement Surveys (100 important suppliers)
Once

Share KDDI Sustainable and Responsible Procurement Policy

Promotion of responsible procurement through supply chain

Audits based on the results of a Sustainable Procurement Survey
Five times
Individual opinion exchange meetings with business partners
Four times
Human rights workshops with outside experts
Once
Participation in External Initiatives
We endeavor to participate and play a leadership role in initiatives and organizations in and outside Japan to contribute to the development of a truly connected society.
Initiative
Position
International Standardization of Telecommunications
ITU Radiocommunication Sector
(ITU-R)

SG4-related Meeting WP4C Chair (Efficient orbit/spectrum utilization for the mobile-satellite service (MSS) and the radiodetermination-satellite service (RDSS))

ITU Telecommunication Standardization Sector
(ITU-T)

SG3 Chair (Rates & Policy)
SG9 Chair (Video Transmission & CATV)
SG17 Vice-Chair (Security)

3rd Generation Partnership Project
(3GPP)

TSG SA WG1 Vice-chair (Service & System Aspects)

GSM Association
(GSMA)
O-RAN ALLIANCE

Director
WG2 Co-Chair (RAN Intelligent Controller)

Building a Safe and Secure Society
Japan Smartphone Security Association (JSSEC)
Vice Chair/Director/Secretary
Telecommunications Carriers Association (TCA)
Director
Promotion of Diversity and Inclusion
NPO J-Win
Advisory Board Member
Topics
GSMA

Since declaring net zero emissions as an industry by 2050 in 2019, GSMA has been continuously working to support and promote the reduction of GHG emissions in the telecommunications industry, particularly mobiles. The Mobile Net Zero report issued by the GSMA in May 2022 describes the KDDI Group's initiatives as a good example for the industry. The article reports that the company is continuing to take on further challenges, such as accelerating the setting of carbon neutrality targets and focusing more on its energy business, based on its policy of obtaining SBT certification in February 2022, developing diverse businesses, including finance and energy, and promoting sustainability management.
Notes

Net zero: Net-zero greenhouse gas emissions
GHG: Greenhouse Gas
SBT: Science-Based Target. Accredited by an international climate change initiative jointly established by the UN Global Compact, CDP (an international NGO working on climate change and other issues), WRI (World Resources Institute) and WWF (World Wide Fund for Nature). If a company's greenhouse gas emissions reduction targets comply with the Paris Agreement's goal of "holding the increase in the global average temperature to well below 2°C above pre-industrial levels and pursuing efforts to limit the temperature increase to 1.5°C above pre-industrial levels," it qualifies as an SBT.