Our Awareness Raising and Education Initiatives
KDDI runs a range of classes across Japan helping children and the elderly better understand how to use smartphones and other mobile devices safely, including Smartphone and Mobile Phone Safety Classes and Raise Disaster Risk Reduction (DRR) Literacy with Your Smartphone workshops.
We also run campaigns to raise awareness of social issues such as smartphone use while walking, driving or riding a bicycle. We are also actively involved in career education support programs.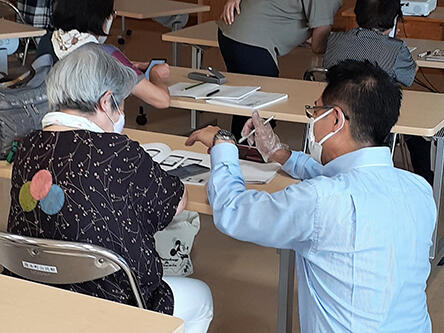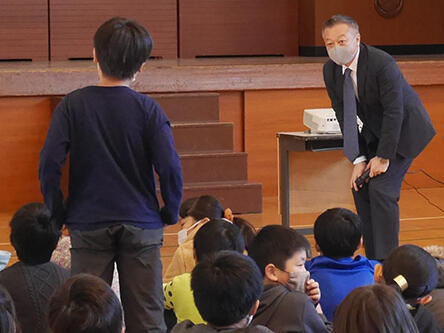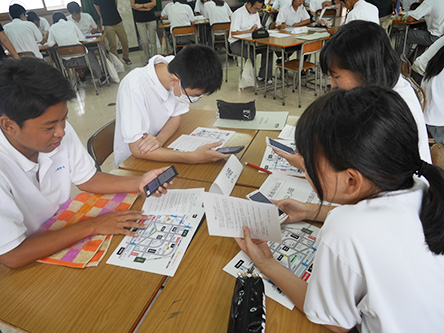 Youth Education Activities
KDDI Basic Guidelines concerning Safe and Secure Communication for Young People
We take UNICEF's Convention on the Rights of the Child (CRC) and Children's Rights and Business Principles seriously. With regard to the CRC in particular, which codifies children's right to survival and development, we ensure that children have access to education and do not face a digital divide. Regarding Children's Rights and Business Principles, we are committed to ensuring that KDDI's services come with safety measures that respect and promote children's rights.
We offer safe and affordable services to young people and run awareness campaigns. We are committed to protecting children's rights as we endeavor to create a society where children can enjoy mobile and internet connectivity.
Initiatives through KDDI Smartphone and Mobile Phone Safety Classes
At elementary schools, junior high schools and high schools across Japan, KDDI's certified lecturers teach children rules and manners to abide by when using a smartphone or mobile phone and go over teachable examples of trouble and incidents related to smartphones, mobile phones, and the internet. The classes are designed to enable children to use their own judgment and thereby avoid risks. Courses are held onsite at schools as well as online. Since its launch in fiscal 2005, a total of 39,000 classes have been held with over 6,940,000 attendees. There is a wide variety of human rights-related risks posed by the internet, and people need to be careful not to spread misinformation or write hurtful comments on social media, post identifying information, or too easily trust people met online.These topics are covered by the lectures, and we are working to enable children to safely use information technology while protecting their human rights.
Workshop-Style Classes: Raise DRR Literacy with Your Smartphone
Japan is struck by major natural disasters almost every year, and education for disaster risk reduction (DRR) is becoming increasingly important in schools. We have been holding workshop-style classes named Raise DRR Literacy with Your Smartphone for high school students since fiscal 2017 to teach them how to effectively use ICTs as a lifeline in the event of a disaster. A social media network was specially created for learning how to share information during the classes. In total, these workshops have been held at 52 schools with over 2,600 participants to date.
Comprehension Questionnaire
Questionnaire content
(1) Importance of receiving and sending appropriate information in the event of a disaster
(2) Importance of helping oneself and others in a disaster
(3) Need to pay attention to information communication in everyday life too
Results (FY2021)
| Understood very well | Understood well | Did not understand very well | Did not understand |
| --- | --- | --- | --- |
| 77.4% | 21.3% | 1.3% | 0.1% |
Percentage of Positive Responses
Understood very well, well
98.7%
Bridging the Digital Divide for Seniors
We have been holding workshop-style classes for seniors who do not have smartphones, so they can learn basic operations and how to use them safely and securely through hands-on experience using an au smartphone since 2017. We offer three courses: "Smartphone Course for Seniors," "Course for Learning Disaster Prevention Measures," and "Course for Consumer Affairs Center." A total of 52 courses have been conducted with over 2,800 participants to date.
As part of our regional co-creation efforts, we are also implementing a project to cultivate smartphone lecturers by sharing with residents in local communities of the region the knowledge necessary to become smartphone lecturers. By cultivating residents in local communities to become smartphone lecturers, we will increase opportunities to consult with them on how to use smartphones in their daily lives, thereby contributing to eliminating the digital divide.
Raising awareness of social issues
Cycle Safety Project to Prevent Use of Smartphones While Cycling
The percentage of accidents involving pedestrians and bicycles is on the rise (according to the National Police Agency's Traffic Bureau), and accidents caused by "smartphone while riding a bicycle" and the high cost of compensation for such accidents have become major social issues. In September 2017, KDDI launched the "Bicycle Safety and Security Project" with the aim of realizing a society in which people can use bicycles safely and securely.
Since March 2019, we have produced a VR lesson kit for high school students to prevent smartphone while riding a bicycle, and have been providing it free of charge to school teachers. School teachers themselves can easily conduct the lessons, and students can think about the dangers and problems of the social issue of "smartphone while biking" while experiencing it in real life.