Approach to Innovation
KDDI is committed to transforming lifestyles in a variety of fields from the perspective of consumers. To this end, KDDI continues to take on the challenge of research and development into cutting-edge technologies in looking ahead to the next-generation communication systems Beyond 5G/6G and promotes technologies (LX Technologies) that will transform lifestyles through collaboration with external partners and open innovation based on industry-academia-government collaboration.
Promotion for R&D and Technology Demonstrations
We have organized a framework to promote both technological demonstrations for grasping technology trends in a timely manner and utilizing the latest technologies for our business, and research and development aimed at creating state-of-the-art technologies over the long term.
In the area of technology demonstration, mainly our technology divisions are engaged in the development and demonstration of technologies that will support future business operations, such as next-generation networks and LX Technologies.
Meanwhile, in the field of R&D, apart from the technology divisions mentioned above, KDDI Research, Inc. is engaged in a wide range of fields, from research analysis for future prediction to advanced research and applied research. In particular, advanced research covers a wide range of areas centered on networks, security, AI, and xR (Cross Reality). 296 researchers are engaged in R&D (as of April 1, 2022).
Change in R&D Expenses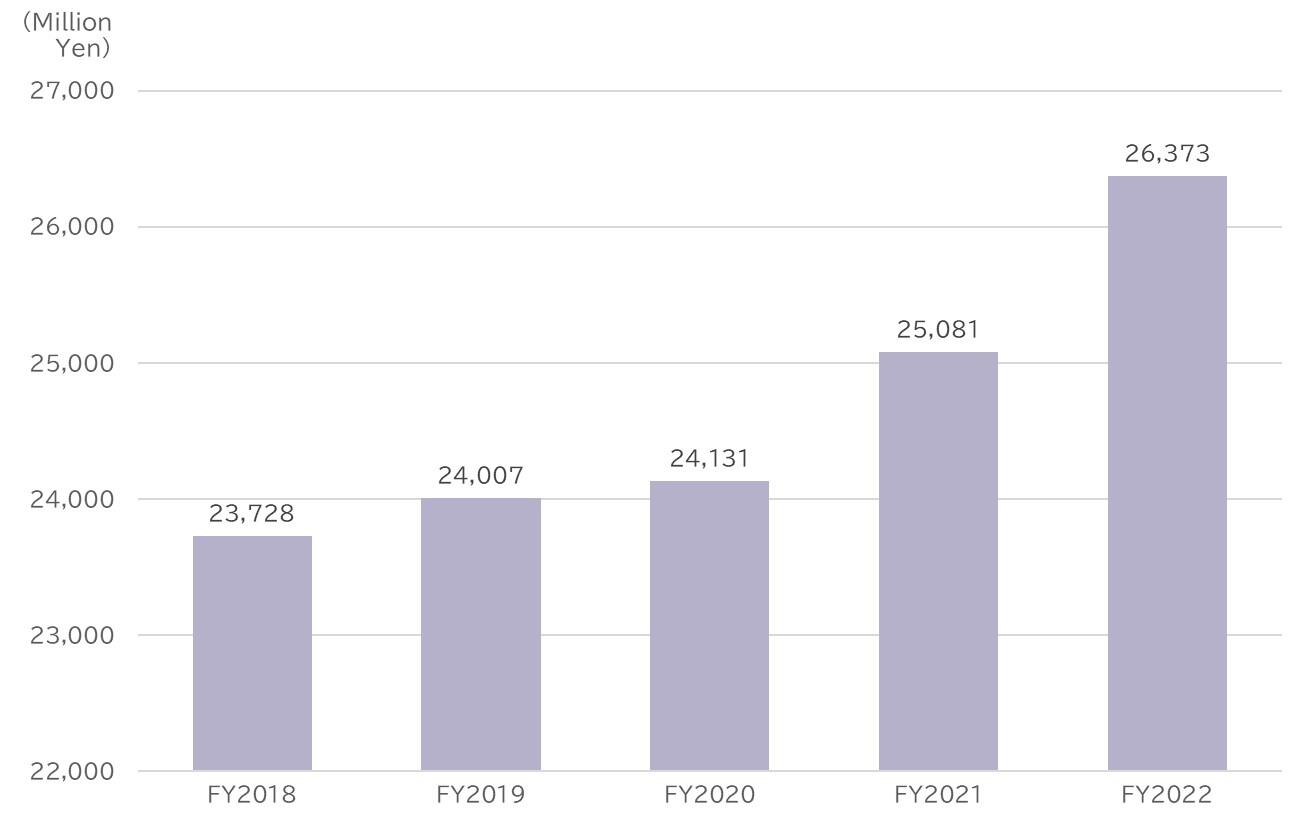 Promoting Open Innovation
KDDI Digital Gate
In September 2018, we launched KDDI Digital Gate, our business development hub for the IoT and 5G era in Toranomon, Tokyo to create new business solutions with our corporate customers. In September 2019, we expanded KDDI Digital Gate to Osaka and Okinawa, which have already been used by over 450 companies in total.
KDDI Digital Gate provides a KDDI development team and a project room where prototypes can be developed rapidly with agile development methodology; co-creation workshops are held to identify potential issues and come up with innovative ideas through design-oriented thinking; and hands-on demonstrations and testing using various telecommunications technology, including 5G and IoT, are conducted. KDDI will work with a professional group made up of highly specialized partners, aiming to speed up the process of identifying needs, creating, learning and improving, helping customers to provide services with high market value to society as quickly as possible.
KDDI Open Innovation Fund
KDDI Open Innovation Fund is a corporate venture capital operated by KDDI and Global Brain Corporation that invests in promising start-ups across the world. We strongly support the growth of our investee companies, using our broad networks with different companies and marketing skills, as well as linking with our services. In April 2018, we launched KDDI Innovation Fund No.3.
We established an investment program to strengthen initiatives in fields of increasing importance for the 5G era, including AI, IoT and big data. Drawing on KDDI's and KDDI Group companies' technological and business insights and networks of venture companies, we support promising new venture companies. KDDI Open Innovation Fund No.3, which is active as of May 2021, has invested approximately 20 billion yen in total. The fund program will also make it possible not just for KDDI but also for its group companies to proactively undertake joint development efforts with venture companies.
We have specialist personnel based in San Francisco, the United States, and Singapore, where we are looking to invest in start-ups with the latest technologies or innovative business models. We offer wide-ranging support for business development, marketing and localization for our investee companies when they plan to expand their business in Japan.
KDDI ∞ Labo
In 2011, we launched KDDI∞Labo, a platform that enables start-ups promoting new services to collaborate with partner alliance members that have a wealth of assets and know-how in various industries with the aim of co-creating new businesses that impact society in the era of 5G. This program offers total support to selected teams, including business cooperation, creation of testing opportunities, and discussions about business co-creation with the partner alliance, which comprises over 40 various major companies that support the mission of KDDI∞Labo. The platform also offers a variety of other support, including business matching opportunities through pitching events, 5G testing environments, and the provision of KDDI Digital Gate assets.
KDDI research atelier: Research Center to Propose New Lifestyles
In December 2020, KDDI and KDDI Research, inc. opened and continue to operate the KDDI research atelier in Toranomon, Tokyo, as a survey and applied research center to propose new lifestyles toward 2030.
KDDI research atelier aims to solve medium- to long-term issues facing consumers and society and to enable lifestyles optimized for individual consumers. To achieve these goals, the atelier will partner with companies and research institutes in Japan and overseas, leveraging the KDDI Group's assets that include KDDI Digital Gate and KDDI ∞ Labo, based on the concept of next-generation society "KDDI Accelerate 5.0" toward 2030 that is designed to accelerate the creation of "Society 5.0" with 5G. In August 2021, we launched "FUTURE GATEWAY," a co-creation initiative with advanced consumers, to propose and demonstrate new lifestyles for the year 2030.
Striving to create the world's best and the world's first results, "Joint Research Projects with World-Leading Researchers"
In order to deepen and accelerate basic research on the seven technologies set forth in "KDDI Accelerate 5.0," in 2020 the Advanced Technology Research Laboratories, KDDI Research, Inc., began joint research with university researchers with proven track records in their respective research fields around the world. Following the AI and wireless communication fields, in fiscal 2021 we began joint research in the XR field. The dispatched young researchers have been working together with top-class researchers and students from Europe and the U.S. in a challenging and competitive environment, striving to generate research results that are the best and first in the world. Based on the results obtained through this joint project, KDDI Research, Inc. will contribute to the early realization of a lifestyle optimized for individual consumers as a goal of KDDI Group.
Activities for Innovation
Network Innovation
Initiative
Content
New base station expansion technology that links wireless and optical technologies
In September 2021, we successfully demonstrated the world's first combination of "Intermediate Frequency over Fiber (IFoF)," an optical fiber wireless technology that can efficiently accommodate many base stations with fewer optical fibers, and "Cell-Free massive MIMO," a base station configuration technology that optimizes wireless signal quality for individual customers by linking multiple base station antennas.
The IFoF scheme transmits wireless signals as analog waveforms without digitizing them. It is expected to solve the problem of large capacity in the mobile fronthaul section associated with digitization as well as greatly reduce the length and number of required optical fibers by consolidating wireless signals for multiple antennas into a single optical fiber and transmitting them up to the antenna vicinity. In addition, since analog waveform transmission can reduce base station antenna processing by concentrating wireless signal processing at the aggregation station, it is expected to contribute to power savings in antenna-side equipment in Cell-Free massive MIMO, which requires distributed installation of many antennas.
28GHz LCD metasurface reflectors
Jointly with Japan Display Inc. in October 2021, we succeeded in becoming the first in the world to develop a 28-GHz LCD metasurface reflector that can change the reflection of radio waves in any direction. This will make it possible to expand ultra-high-speed, high-capacity service areas in response to changes in the surrounding signal quality, and it is expected to enhance customer convenience.
Multi-core fiber
In July 2021, we invented and successfully demonstrated a new transmission method that improves the optical signal component input into an optical fiber by a factor of 9 after transmission by utilizing the four-wave mixing phenomenon [1] that occurs in optical fibers. This is a revolutionary invention that can increase transmission capacity by approximately three times compared to conventional transmission methods, and is expected to be utilized in the future as a basic technology for expanding the transmission capacity of optical fiber communications that support Beyond 5G/6G networks.
[1]

Four-wave mixing phenomenon: When light is incident on a material, light with a frequency different from that of the incident light is generated. This is a type of nonlinear optical effect, a phenomenon in which two different frequencies are generated from two light waves, resulting in a total of four light waves.
Product Innovation
Initiative
Content
Sync Sofa
In November 2021, we developed "Sync Sofa," a sofa-type communication system that enables physical communication, such as "making a gesture," "chiming in to give a pleasant response," and "touching the shoulder or back," to create a sense of unity and a feeling of empathy with another person.
"Sync Sofa" uses signals from multiple acceleration sensors and microphones mounted on the sofa to synthesize in real time the complex, fine sensations that express the actions and reactions of an online partner, presenting them across a wide area of the human body, in conjunction with sound, using multiple vibration actuators. In addition, the system accurately reproduces on the display how the other party appears depending on the viewer's perspective. By reproducing these tactile, auditory, and visual sensations, we provide the sensation of being right beside your online counterpart.
Development of amphibious drone
In June 2021, we developed the world's first "amphibious drone." Drones for underwater work already exist, but these require substantial labor to transport them above water such as by mounting them on boats. Our amphibious drone can carry an underwater drone to a target point in the air and let it work directly underwater. This enables the easy use of drones for underwater work, and they are expected to play an active role in a wide range of fields, such as checking underwater fish breeding farms and inspecting offshore facilities.
Process Innovation
| Initiative | Content |
| --- | --- |
| Providing agile development education program | In addition to using agile development methods on our own, in cooperation with Scrum Inc. and Eiwa System Management, Inc., we established the joint venture Scrum Inc. Japan in March 2019 to bring about innovation. The company holds agile development seminars, and is providing wide-ranging support to Scrum teams from the launch of their agile development teams to the establishment of an agile organization management method. We will continue providing agile development know-hows to support transformation of businesses through digitalization. |
Social Innovation
| Initiative | Content |
| --- | --- |
| Demonstration experiment of mixed freight/passenger self-driving x MaaS | From February to March 2020, we conducted a demonstration experiment of mixed freight/passenger self-driving x MaaS together with Tokai National Higher Education and Research System, Nagoya University. The purpose of this demonstration experiment was to revitalize the community through a new mobility service in the Takazoji New Town area of Kasugai City, Aichi Prefecture. This trial combined two different mobility services with different dispatching requirements, transportation of people and delivery of goods, and realized on-demand self-driving transportation and delivery of goods close to residents' homes by carefully allocating stops. |
| Specific clinical research to improve smartphone dependence | In 2021, together with Tokyo Medical and Dental University, a national university corporation, we started specific clinical research for the improvement of "smartphone dependence" among outpatients with Internet Addiction Disorder at the university. In order to ensure the safe and secure use of smartphones, we will promote the research together with research on the improvement and prevention of smartphone dependence utilizing neuroscience and AI, which was conducted prior to this research in collaboration with Advanced Telecommunications Research Institute International (ATR), Inc. |
Main Innovation Awards Received
Award name

66th Maejima Hisoka Award in FY2020
Award giving organization

Tsushinbunka Association
Awarded research

Research, development and practical application of Privacy Policy/Preference Manager (PPM)
Award recipient (belonging organization at the time of receiving the award)

KDDI Research, inc.
Date received

April 9, 2021
Award name

ITU-AJ Accomplishment Awards 2021
Award giving organization

The ITU Association of Japan
Awarded research

Web technologies related to improving the disaster resilience of communication systems/Map of open data mashups/Geographic information system implementation and its standardization
Award recipient (belonging organization at the time of receiving the award)

Satoru Takagi (KDDI)
Date received

November 30, 2021
Award name

FY2021 Information and Communication Technology Award, TTC Chairman's Prize
Award giving organization

Telecommunication Technology Committee
Awarded research

Achievements in the standardization of core networks in mobile communication systems
Award recipient (belonging organization at the time of receiving the award)

Yusuke Nakano (KDDI)
Date received

June 15, 2021
Award name

Recognition of the 32nd Radio Achievement Award, the Chairman of the Board of ARIB Prize
Award giving organization

The Association of Radio Industries and Businesses (ARIB)
Awarded research

Development of an optically transparent dual-band meta-surface reflector
Award recipient (belonging organization at the time of receiving the award)

Hiroki Matsuno (KDDI Research, inc).
Awarded research

Implementation of 5G system on 4G frequencies
Award recipient (belonging organization at the time of receiving the award)

Tetsuo Mukai (KDDI)
Awarded research

Completion of radio wave shielding measures in Shinkansen operating sections nationwide
Award recipient (belonging organization at the time of receiving the award)

Tatsuki Sato (KDDI)
Date received

June 30, 2021
The following websites list awards other than those mentioned above.
Others
Innovative Major Companies Ranking 2022 (sponsored by the Innovation Leaders Summit Action Committee and the Ministry of the Economy, Trade and Industry): No.1 (five years running)