KDDI's Approach
In our efforts to "improve customer experience," we at KDDI believe it is important to offer products and services so that all customers can experience the joy of communication.
We offer products and services from a customer perspective, aiming to create a society in which ICTs is accessible to all, where even more people the world over—adults, children, older people and people with disabilities and low income earners—have equal access to the benefits of a variety of products and services.
As well as increasing accessibility, we strive to offer services that anyone can use with peace of mind. We are committed to offering products and services based on the principle of universal design, so that they can be used with confidence by everyone.
Product Quality Control
We implement total quality control from product design to after-sales service to ensure that customers can use our products in a safe and secure manner. With the purpose of realizing the products with safe and secure quality, in cooperation with outsourcing manufacturers, we at KDDI carefully confirm the safety, durability, and quality of our hardware and software products in each manufacturing process from design to market release based on strict standards.
In case any defects or quality issues arising after products are released, we receive inquiries via our website, phone and au retailers including au Shops to immediately identify the causes and improve both hardware and software.
If any especially serious defects are found, the market response screening committee chaired by the President is established to confirm the details and causes, decide countermeasures, and promptly respond to customers.
Product Quality Control Process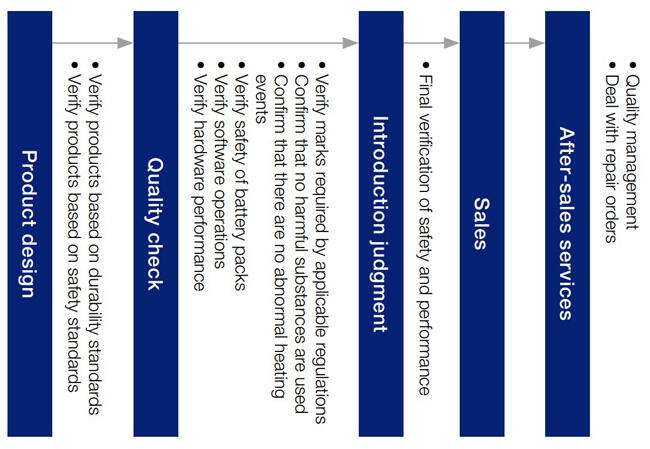 Initiatives for Promoting the Safe Use of Products and Services
Smartphones, mobile phones and the Internet have become irreplaceable in our daily lives.
However, more people, particularly children and older people, get involved in crimes and other troubles.
We promote initiatives to ensure safe use regardless of the users' level of ICT literacy. Those include providing products and services that give advice and instruction on manners to keep in mind and other awareness campaigns for safe use.
Cycle Safety Project to Prevent Use of Smartphones While Cycling
In 2017, we launched the Cycle Safety Project. In March, 2019, KDDI and au Insurance Co., Ltd. launched the third edition of the project, focusing on high school students [1], who are prone to get into a traffic accident while cycling. To offer an opportunity to simulate the danger from using smartphones while cycling, which is becoming a social problem, and find a solution to preventing it, we created the VR Class Kit to Prevent Smartphone Use While Cycling. The VR class kit comprises three parts totaling 50 minutes. They are a slideshow that conveys the danger of bicycle accidents and the need to be prepared for expensive compensation; the Stop Using Smartphones While Cycling VR Experience program, which allows users to simulate the field of vision and response time to brake when cycling with and without distraction from a smartphone; and a workshop for brainstorming ways of preventing the use of smartphones while cycling.
Teachers can use this VR class kit as part of their normal lessons, helping students to think for themselves about the dangers of being distracted by smartphones through realistic experiences. The VR Class Kit was recognized as a set of educational materials that leverage the latest technologies to solve social issues, and received the Award of Excellence at the 2020 Excellent Material Awards concerning Consumer Education hosted by the National Institute on Consumer Education on June 30, 2020.
Going forward, we will expand the Cycle Safety Project, aiming to realize a society where bicycles can be used safely.
[1]

Reference: National Police Agency, Traffic Bureau, "Child and Student Traffic Accidents" (March 22, 2018)
Initiatives to Promote Safe Use
for Young people
Products
mamorino5

A touch-screen mobile phone for kids, with security alarm, location confirmation feature, etc.

*

mamorino5 does not have a voice operation feature
Services
Security Filter for au

A smartphone filtering service to protect young people from dangerous sites and apps. Filter level can be set according to the child's age and what they are using the smartphone for.
Also provides time limits to prevent overuse, usage inquiries, area search, etc.
Age confirmation Services

With the customer's consent, we offer an Age Confirmation Service that transmits age information (information that allows content providers to determine whether the customer is over or under the age specified by the providers) when the customer uses social media and other services.
Rates
N Junior Keitai Plan N

A special price plan for the "mamorino4" and "mamorino5" for children of elementary school age and under. The plan can be used for a basic fee of 500 yen when subscribing to 2-year contract (Everybody Discount).

*

Exit from a 2-year contract or cancellation mid-contract will incur a contract cancellation fee, etc.
Family Discount

Discount service with no fixed fee, for families using au smartphones or mobile phones.
Domestic SMS messaging (C-mail) and domestic calls among family are free 24 hours a day, based on certain contract conditions. Families living separately can also apply.

*

Can be combined with Smile-Heart Discount
Measures
Promote the use of filtering services

Based on the Act on Development of an Environment That Provides Safe and Secure Internet Use for Young People, as well as implementing filtering for all contracts for minors, we are actively striving to improve user-friendliness and increase awareness of our filtering services.
KDDI Smartphone and Mobile Phone Safety Classes

We give in-person or online classes at schools across Japan, enabling children to learn the skills to safely and properly use smartphones and mobile phones using their own judgment.
Educational website: Family Guide to Smartphones and Mobile Phones on WEB

An educational website where both parents and children can enjoy learning about the important points and rules when using smartphones and mobile phones.
for Older People
Products
BASIO4

A product for first-time smartphone users with a large screen that makes it easy to read texts and see photos. It has a clear and easy-to-use home screen and buttons. In addition, just by pushing the dedicated button, it is easy to use au PAY, the smartphone payment service for shopping and payment just by reading a barcode or QR code.
KYF43 Simple Phone KYF41/KYF43

Ability to adjust the audio quality of the other person's voice to make it easier to hear, with a high-quality audio communication function, simple menu screens, big letters and larger keys.
arrows We FCG01

As a 5G entry model with a universal design that is easy for everyone to use, the home screen can be easily switched between arrows HOME and simple mode depending on how it is used. Also, to ensure that the device can be used as long as possible, the main body can be washed with water, the screen is resistant to cracking, and the overall battery life can be extended by limiting charging.
Services
au smart support

A membership-based service with a dedicated team of advisors offering tailored support for customers who have bought a mobile phone but are having difficulties using it or who want to buy one but feel anxious about using it, allowing customers to use their devices with confidence.
Blocking spam messages and calls (for smartphones)

A service that displays a warning when it detects probable spam text messages and phone calls, such as those for fraudulent bills. For incoming texts or calls from public utilities, companies, or other sources, the name of the sender or caller will automatically be displayed using the information from the yellow pages.
Blocking spam calls (for landlines)

A service for au Hikari phone option that blocks incoming spam phone calls, such as those for scams or solicitations, to a landline phone. Spam calls from an unknown numbers are automatically blocked without the need for a special setting.
Rates
Family Discount

Discount service with no fixed fee, for families using au smartphones or mobile phones.
Domestic SMS messaging (C-mail) and domestic calls among family are free 24 hours a day, based on certain contract conditions. Families living separately can also apply.

*

Can be combined with Smile-Heart Discount
Measures
Measures against money transfer frauds

For Individual subscriptions: Enhancing identity confirmation by restricting the payment methods for usage fees; preventing mass fraudulent subscriptions by restricting the number of subscribable lines; enhancing screening via information sharing among mobile phone and PHS companies about subscribers of lines whose identities cannot be confirmed; and suspending the use of land-line telephone numbers that were used for money transfer frauds or other particular kind of frauds at the request of the National Police Agency.
KDDI Smartphone and Mobile Phone Safety Classes

Supporting "consumer education" run by local authorities, we explain the basic operation of smartphones and tablets and how to use them safely, mainly for users aged 70 and under.
for Users with disabilities
Products
KYF43 Simple Phone KYF41/KYF43

Features a text-to-speech function that, once set up, will read aloud menu options, e-mails, and other text.
This can be used as an aid not only by elderly people with diminished eyesight but by other visually impaired people.
Services
Billing Information in Braille

Service for visually impaired users to receive monthly usage billing information in braille (including amount charged and breakdown).
Rates
Smile-Heart Discount

Provides discounted rates for persons with disabilities to make au mobile phones easier to use.
As of March 2022, the discounts are available to holders of a physical disability certificate, rehabilitation certificate, certification of psychiatric disorder, medical care certificate for specified diseases, registration certificate for specified diseases or medical expenses certificate for specified intractable diseases.
Measures
Sign language support service

We offer support for contract procedures in sign language at a KDDI directly managed outlet (au Style SHINJUKU). We also offer remote sign language support using tablet-based video conferencing functions at several KDDI directly managed outlets.
for LGBTQ+
Rates
Family Discount service available to same-sex partners

Eligibility for family-oriented services such as au Family Discount extends to formally certified same-sex partners.
for Everyone
Initiatives through MVNO
KDDI Group companies: JCOM Co., Ltd. and BIGLOBE Inc. offer a variety of services to suit its customers' needs, including low-cost communication services to reduce the cost burden for customers.
Initiatives to stop smartphone use while walking, cycling, and driving
Cycle Safety Project: A joint initiative by KDDI and au Insurance Co., Ltd. to create a society where bicycles can be used safely. We are raising awareness of bicycle safety via campaigns using apps and social media, as well as the Stop Using Smartphones While Cycling VR Experience.
Extensive variations of 5G mobile phones (Wide 5G variations and multiple brands ranging from high-end to low-cost models on offer)
With the launch of "au 5G," the total of 47 types of 5G models have been on offer since the summer of 2020 (as of July 2022). Currently, all au smartphones in the new line are of 5G models. 5G mobile routers, along with a 5G router for home use that immediately connects to the internet without line installation, have been added, so that diversifying customer needs are met, promoting "5G for everyone."
UQ mobile and povo are also 5G-compatible, providing a wide range of products and services to choose from that meet customers' needs.