KDDI's D&I Promotion System
With the President as the top decision-making authority, KDDI is engaged in company-wide efforts to promote diverse work styles and the professional advancement of women, employees with disabilities and LGBTQ+ people.
By specifying promotion of diversity and respect for human rights in the KDDI Group Philosophy and the KDDI Code of Business Conduct, we have clearly positioned diversity promotion as a management issue.
*

LGBTQ+ stands for lesbian, gay, bisexual, transgender, questioning (people who are unsure of their own sexuality and don't want to decide), and plus (indicating that there are many other sexualities).
KDDI's D&I Promotion System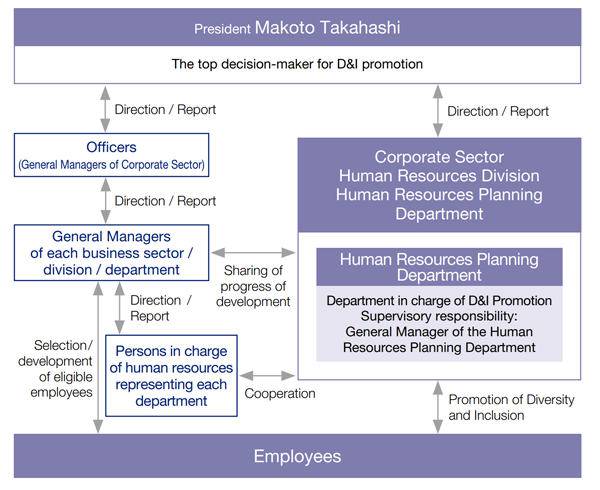 Initiatives to Promote LGBTQ+ Equality
As shown in the enactment of a law permitting persons with gender identity disorder to change their gender status in Japan and the legalization of same-sex marriage in increasing number of countries and regions, attitudes toward LGBTQ+ equality are changing. However, businesses still lag behind in the understanding of and support for LGBTQ+ rights.
In light of this, we at KDDI have been engaging in activities to promote LGBTQ+ awareness within the company since fiscal 2013 in the effort to advance understanding and spread awareness among employees.
Increase Allies

We at KDDI are engaged in an initiative to increase allies―supporters of LGBTQ+ people. To LGBTQ+ people, the presence of allies around them boosts confidence. Allies can also promote dialogue about the issue in the workplace. We give employees who have declared to be allies KDDI ALLY stickers that they can display prominently to show their commitment to the cause. As of July 2022, around 3,100 employees have declared themselves allies and are working on making our workplace a safe, happy place for LGBTQ+ people to work in. In October 2020, we also launched the Ally Community as a place to learn about the feelings of the parties concerned and deepen our understanding about them, and we are working with approximately 50 volunteers.
Other Initiatives
Initiatives
Content
Inclusion of KDDI Code of Business Conduct (basic principle)
The code enshrines the principle of no discrimination or violation of dignity on the basis of sexual orientation and gender identity, in addition to gender, age or nationality, etc., which is widely communicated within and outside the company.
Awareness-raising activities for facilitating understanding
Seminars and e-learning courses to improve the understanding of LGBTQ+ issues have been conducted on an ongoing basis since fiscal 2013.
Change of definition of spouse and children, and application of internal regulations
If the company regards an employee as having his/her same-sex partner:

The employee is regarded as having his/her spouse in all internal programs (since April 2017).
Any child between the employee and his/her same-sex partner is regarded as his/her child under all internal regulations (since June 2020).

Considerations in work environment
Transgender employees are encouraged to use their chosen working names, receive tailored health checks and use universal toilets.
Promoting the understanding of LGBTQ+ issues in society

Participation in forums and other events related to LGBTQ+ issues and showcasing KDDI's initiatives
Donations to LGBTQ+ support groups

Application of au Family Discount scheme
The eligibility of family-oriented services such as au Family Discount has been expanded to include same-sex partners when formal certification of same-sex partnership is provided.