KDDI's Approach (Human Rights)
The KDDI Group recognizes that all of our business activities are premised on respect for human rights. We believe that we have a responsibility to respect the human rights of our employees, business partners, and all other stakeholders involved in our business activities, as well as to prevent and mitigate human rights violations.
In July 2022, KDDI joined the United Nations Global Compact. Under the top management commitment, we will work on respecting human rights in our business activities.
We are striving to avoid discrimination based on race, faith, gender, social status, religion, nationality, age, sexual orientation, gender identity, mental / physical disabilities, pregnancy, child birth as well as tackling and eliminating labor practices that violate human rights, such as forced labor and child labor.
We have set a zero-tolerance approach as the core of our initiatives. The KDDI Group considers the International Bill of Human Rights and the International Labor Organization (ILO) Declaration on Fundamental Principles and Rights at Work to be the most fundamental policies for human rights and set the policies and take initiatives based on the UN Guiding Principles on Business and Human Rights and the OECD Guidelines for Multinational Enterprises.
The KDDI Code of Business Conduct, which serves as a guideline for behavior of officers and employees, defines our basic principles on respecting human rights and individual characteristics throughout all our business activities.
We believe that diversity and inclusion is important for a company to achieve sustainable growth, especially in driving innovation. The KDDI Group Philosophy includes a vision of embracing diversity to facilitate the understanding. We are also aware that issues surrounding the protection of personal information and the invasion of privacy by a government uniquely expose the telecommunication industry to human rights risks. We are determined to fulfill our social responsibility to address these issues by leading an industry-wide drive by means of continuous stakeholder engagement for risk identification.
KDDI Group Human Rights Policy
In order to fulfill our responsibility to respect human rights and further accelerate our efforts, the KDDI Group revised the KDDI Group Human Rights Policy in October 2022. This policy was discussed and approved by the Corporate Management Committee and the Board of Directors.
In light of the increasing momentum in the demand for companies to take responsibility for respecting human rights, the revised policy clearly stipulates compliance with international laws and regulations, the continuous implementation of human rights due diligence, and dialogue with stakeholders.
In accordance with this policy, all Group employees will respect international standards such as the Universal Declaration of Human Rights and are committed to respecting human rights in accordance with the UN Guiding Principles on Business and Human Rights.
Furthermore, we will strive to protect the human rights of all stakeholders, including employees, customers, and business partners, and contribute to the achievement of a truly connected society.
Management Framework
At the Sustainability Committee (which convenes twice a year) chaired by the President, KDDI determines the policy on activities related to human rights, develops and reviews the promotion structure, and checks the activities' progress against targets. We will work on respecting human rights under the top management commitment.
We have also set up the Human Rights Subcommittee (which convenes twice a year) under the Sustainability Committee. The Subcommittee functions as an organization to propose and discuss the human rights issues of the entire KDDI Group and is headed by the General Manager of the Sustainability Management Division.
The participants include the Corporate Risk Management Division, General Administration Division, Human Resources Division, Procurement Division, and other related business divisions.
Based on the "KDDI Group Human Rights Policy," we will hold discussions on the promotion of respect for human rights, conduct human rights due diligence, and study measures to address human rights issues, in order to promote Group-wide efforts to respect human rights.
Organizational Structure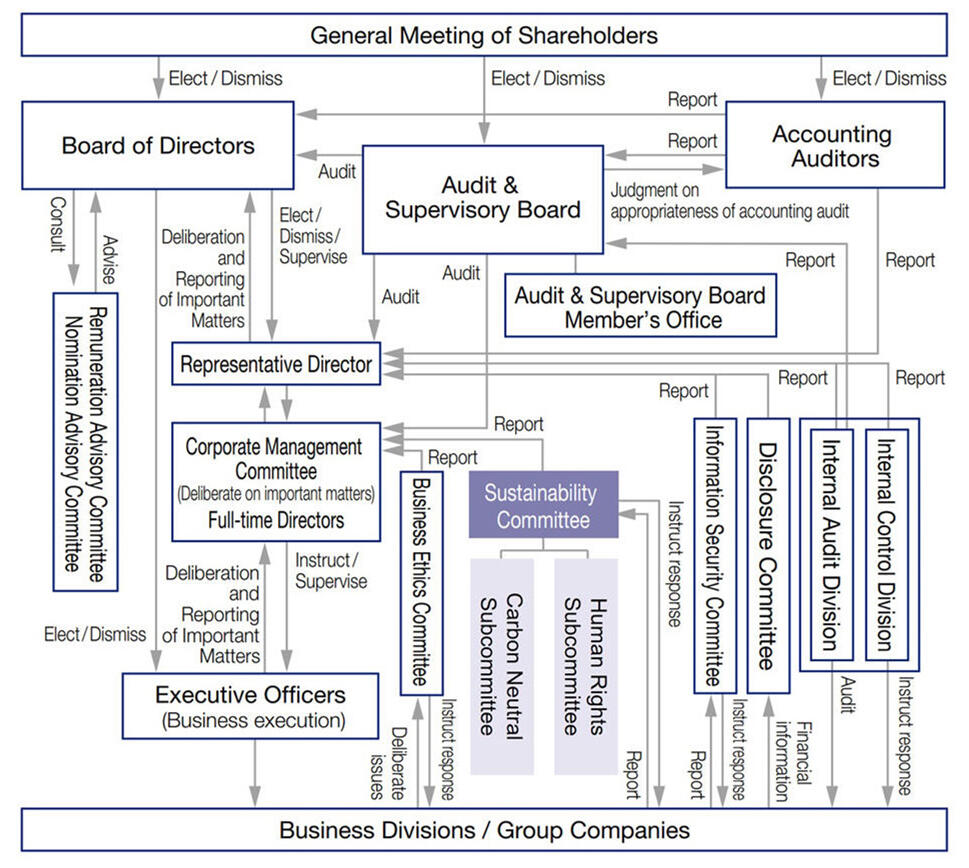 Human Rights Due Diligence
The KDDI Group has conducted human rights due diligence in accordance with the UN Guiding Principles on Business and Human Rights. In the initiatives, we have identified the human rights issues that global companies are expected to address and have reflected them when considering measures.
In FY23.3, we carried out a human rights impact assessment of our business activities and value chains, identifying key human rights issues in the KDDI Group by leveraging external experts' advice. The KDDI Group Human Rights Policy, revised this fiscal year, clearly states the important human rights issues.
We will continue to comply with this policy, and examine and implement measures through the human rights due diligence mechanism in cooperation with related divisions.
Remediation: Grievance Mechanism
KDDI has established a contact point to receive consultations and reports from a wide range of stakeholders in order to reduce and prevent adverse effects on human rights from its business activities and to promote respect for human rights.
In the unlikely event that a case of human rights violation is found to have occurred, we have a system in place to respond promptly and sincerely.
We established the Business Ethics Helpline to serve as a contact point for all employees of KDDI, KDDI Group companies who have questions or concerns about business ethics and legal compliance, including human rights issues. The helpline is available anytime and can receive reports through an internal or external contact point established in collaboration with external experts (Reports can be received by e-mail, phone call or letter, in multiple languages).
In addition, we established "Helpline for Suppliers" as a contact point for employees of suppliers of KDDI and KDDI Group companies.
We have also established a Sexual Harassment and Human Relationships Hotline staffed by external specialist counselors, an Employee Counseling Center staffed by internal employee consultants and a Harassment Hotline staffed by employees at the Human Resources Division. In addition, in the KDDI Group Sustainable and Responsible Procurement Guidelines, we prohibit forced labor, inhumane treatment, child labor and discrimination, and our business partners are requested to understand and follow the guidelines. Any stakeholder can discuss or report their concerns. Privacy of those reporting concerns is protected at any contact point.In accordance with the Whistleblower Protection Act, we ensure the confidentiality of those who consult with us and report to us and make every effort to protect them so that they will not be treated unfairly because they have consulted with us or have reported something to us.
If it is identified that its business activities has caused, or had any adverse impact on human rights, KDDI ensures that it will provide relief for those affected.
Employee Awareness Raising
KDDI and our group companies in Japan strive to further raise awareness of human rights based on the KDDI Code of Business Conduct in director trainings, new employee trainings and position-based compliance trainings. Our awareness-raising initiatives include the provision of harassment prevention seminars (compulsory to all line managers), regular e-mail newsletters about the Code of Business Conduct and the Harassment Prevention Guidebook posted on the intranet.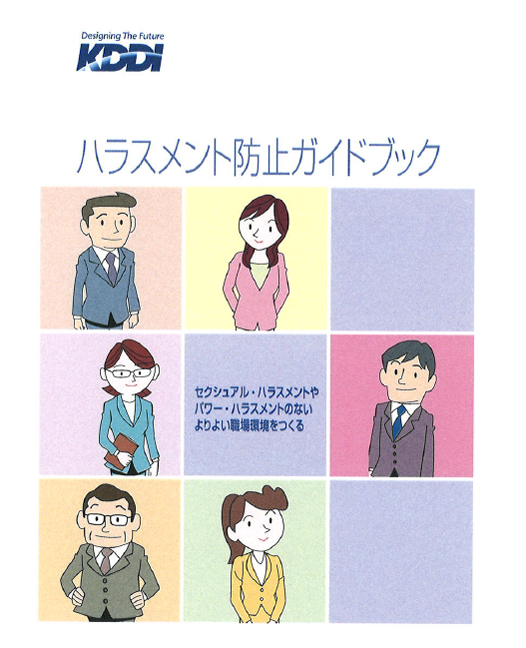 Harassment Prevention Guidebook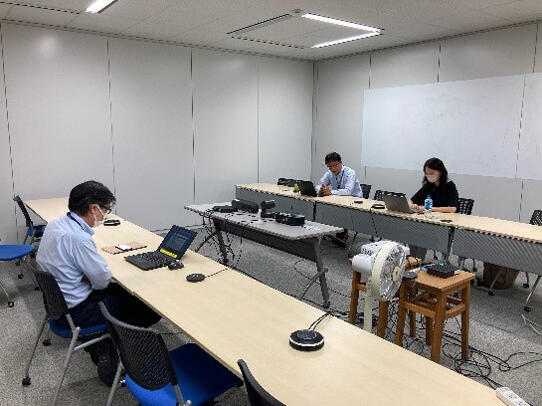 Training by Teams
Youth Education Activities