Corporate Information

Investor Relations

IR Documents

Integrated Report (Annual Report)

Selected Pages of Integrated Report (2015)

Characteristics of the Japanese Mobile Telecommunications Market
Characteristics of the Japanese Mobile Telecommunications Market
As of March 31, 2015, cumulative mobile communication subscriptions in Japan totaled 150 million [1], up 5.4% year on year.
Smartphone subscriptions increased, due mainly to the transition from feature phones, boosting the smartphone penetration rate to 60.6% [2] on a household basis as of March 2015. As the penetration rate is still low in comparison with countries that are more advanced in this respect, such as the United States and South Korea, we expect the rate to grow further.
The Japanese market is characterized by the advancement of LTE networks, which enable high-speed data communications, leading to the creation of communications environments that facilitate diverse services and are independent of handset and location. Against this backdrop, the trend toward "multi-devices," in which a customer may also own a tablet or Wi-Fi router, is gaining traction, so the Japanese mobile telecommunications market is projected to continue expanding.
Furthermore, advances in networks and handsets are making mobile usage environments more convenient, and the scale of the mobile content and mobile commerce markets is increasing. This scenario points to further opportunities to generate revenues.
[1]

Source: Official Announcement of Quarterly Data on the Number of Telecommunications Service Subscriptions and Market Shares (FY 2014 Q4 (End of March 2015)), Ministry of Internal Affairs and Communications

[2]

Source: Results of a consumer trend survey conducted in March 2015 by the Cabinet Office of Japan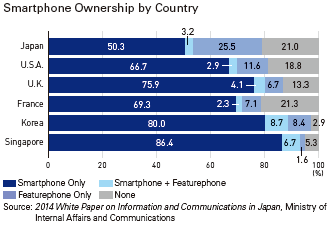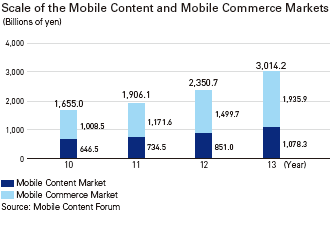 The nationwide FTTH household coverage ratio is more than 90% and "homes passed [3]" is more than 70%, indicating that high-speed broadband environments are essentially in place nationwide.
As of March 31, 2015, fixed-line broadband service subscriptions numbered 36.80 million, up 2.7% from the preceding fiscal year.
Fixed-line broadband service penetration is almost at 70%. Amid a gradual market expansion, in March 2015 regional NTT companies began wholesaling fiber access services (FTTH).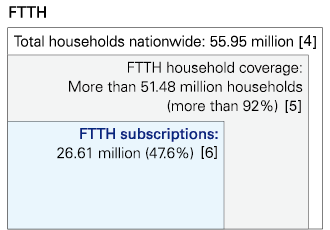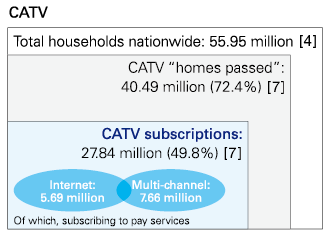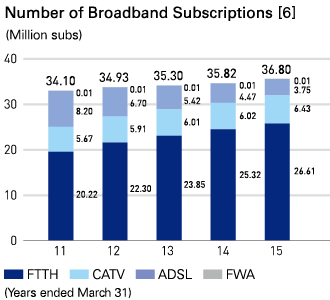 [3]

In regions where the installation of CATV facilities is permitted, households in areas where installation of transit routes is complete

[4]

Source: Ministry of Internal Affairs and Communications (as of January 1, 2015)

[5]

Source: Information NTT East Japan: Overall Management (2014): Telecommunications Facilities: Access Going Optical. As of March 31, 2015, Nippon Telegraph and Telephone East Corporation (NTT East)'s FTTH household coverage ratio is 95% and Nippon Telegraph and Telephone West Corporation (NTT West)'s is approximately 92%.

[6]

Source: Ministry of Internal Affairs and Communications (as of March 31, 2015)

[7]

Source: Hoso Journal, December 2014 edition (as of September 31, 2014)
Due to the proliferation of smartphones and tablets, mobile traffic in Japan is growing at a rapid pace, with average monthly traffic recently rising at 44% year on year.
In particular, average traffic during the peak hours for mobile customers (11-12pm) is up by around 50% per year. This situation poses a dilemma for mobile telecommunications companies, which are working to efficiently absorb this increase in mobile traffic while restraining capital expenditures and maintaining stable network operations.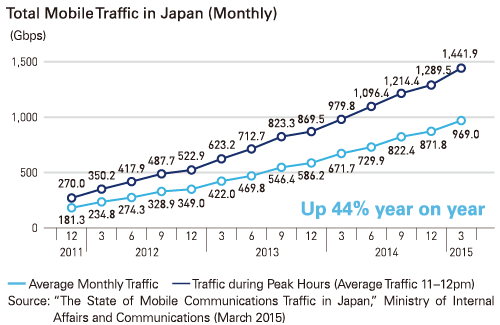 Allocation of Bandwidth among Japan's Mobile Telecommunications Operators