Corporate Information

Investor Relations

IR Documents

Integrated Report (Annual Report)

Selected Pages of Integrated Report (2016)

[Establishing new growth pillars] Ambitiously develop global business
[Establishing new growth pillars] Ambitiously develop global business
2. [Establishing new growth pillars] Ambitiously develop global business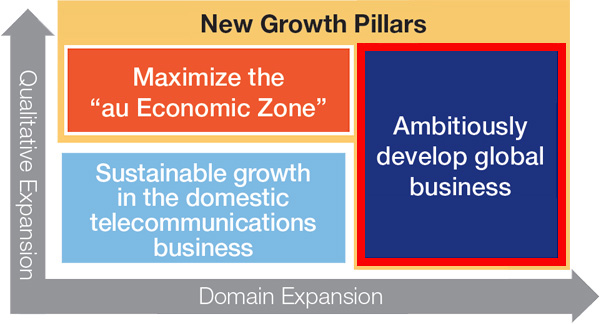 KDDI is ambitiously developing global business to establish a new growth pillar in anticipation of the market contraction expected with the decrease in population caused by the low birthrate and rapid aging of society, which is a long-term issue confronting the domestic telecommunications business.
We are aiming to expand our global business base, primarily in the consumer business centered on mobile, and in the ICT business targeting the corporate market.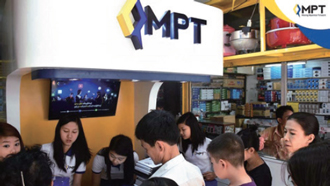 As of 2013, penetration of mobile phones had reached 94.4% worldwide where there had been just 12.1% in 2000. However, when it came to ownership of several SIM cards, the penetration rate was at just 48% [1] of the population worldwide, a rate that is expected to rise as 1.5 billion [1] new mobile users are added through the year 2020.
We are working to advance the international telecommunications business centered on mobile as an axis of growth for our global business.
[1]

Source: 2015 White Paper on Information and Communications in Japan, Ministry of Internal Affairs and Communications
Myanmar: moving ahead with further improvements in network quality and reliability.
The telecommunications business in Myanmar, operated jointly by KDDI's subsidiary KSGM and MPT, adds mobile phone base stations, strengthens operations and improves network quality by expanding coverage areas, and service is now available in every state, with population coverage reaching 96% (as of March 2016).
Future efforts will include additional expansion of coverage, enhanced communications quality, and a stronger customer support structure, combining with the expansion of highly convenient services to meet the strong demand for data.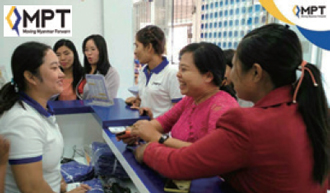 Mongolia: Launched 4G LTE
In March 2016, KDDI acquired additional shares in MobiCom Corporation, which holds the top market share of subscribers in the Mongolian mobile phone market, and made it a consolidated subsidiary. The strength of MobiCom Corporation lies in its brand value, built on a customer reputation for security and reliability, and in the high quality of service it provides. In May 2016, it began offering 4G LTE service, as well as "MobiPlay," a video service utilizing a high-speed internet environment. We will continue to expand the area for 4G LTE and other services, contributing to the growth of a telecommunications society in Mongolia.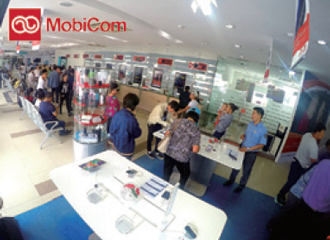 Utilizing the technology and expertise we have gained at home and abroad, with their strengths in quality and reliability, we will commit resources primarily to emerging countries with large populations and fast-growing economies and areas mainly where latent demand exists for upgrading the business model from 3G to 4G, contributing to improve quality of life and economic growth in the countries in which we invest.

Under the TELEHOUSE brand, KDDI deploys data centers in 48 locations spread across 24cities and 13 countries and regions of the world. TELEHOUSE, which began business in the U.S. in the 1980s, has a total floor area of 447,000m2 across its data centers as of the end of March 2016. In the U.K., TELEHOUSE LONDON is moving to expand, with Docklands North Two (23,000m2), a green data center utilizing the latest environmental technology, expected to open this summer.
In this age when the cloud is everything, data centers must address the conflicting issues of both high demand for electric power and concern for the environment. At the same time, providing the connection to carriers, ISPs and cloud service providers is one of the most essential criteria for customers when selecting a data center. To continue to be the first choice of customers, we will continue to expand the scope of our business as a premium data center operator, leveraging the high quality of our connectivity in the primary regional hubs where our customers deploy business.