Corporate Information

Investor Relations

IR Documents

Integrated Report (Annual Report)

Selected Pages of Integrated Report (2018)

The Japanese Market and KDDI
The Japanese Market and KDDI
Integration of Telecommunications and Life Design
KDDI CORPORATION was established in October 2000 through the merger of DDI, KDD and IDO, and has continued to expand its base as a comprehensive telecommunications company with both mobile and fixed-line operations.
While the business has continued to grow with the expansion of the domestic mobile communications market and widespread popularity of smartphones, growth in the domestic telecommunications business, once a key driver, has slowed, and KDDI is working to establish new sources of growth.
Specifically, we are advancing efforts to propose new experience value to customers through the "integration of telecommunications and life design," building concentric rings of life design services such as commerce, finance, energy, entertainment, and education around the core of our telecommunications business and customer base.
In our global business, we are working toward sustainable growth both inside and outside Japan, through our consumer business in Myanmar and Mongolia, and through expansion of our data center business under the TELEHOUSE brand.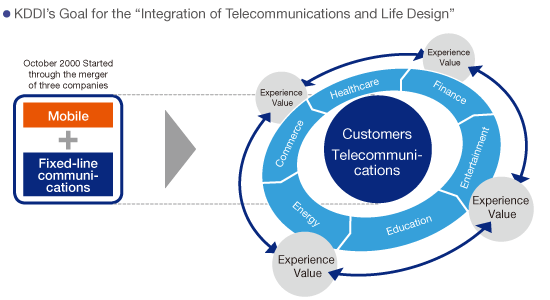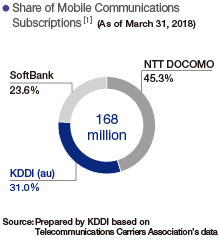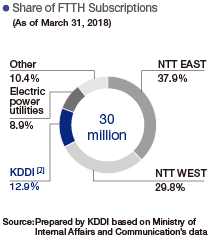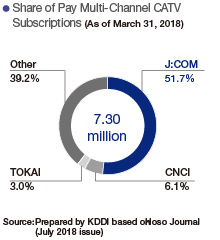 [1]

Share among NTT DOCOMO, INC. (NTT DOCOMO), SoftBank Corp. (SoftBank), and KDDI + Okinawa Cellular Telephone Company (au)

[2]

KDDI + ctc + Okinawa Cellular Telephone Company + BIGLOBE
Principal Businesses of the KDDI Group
Mobile
As of March 31, 2018, au mobile subscriptions numbered 52.28 million, up 7.7% year on year and accounting for a 31.0% (+1.2 percentage point) share of the mobile market coverage by Japan's three major carriers.
Of this figure, in the Personal Services segment, which provides services for individual customers, au smartphone penetration [3] has risen to 66.0%.
In addition, new price plans offered beginning in July 2017 contributed to reducing churn, and as of March 31, 2018, au mobile subscriptions [4] numbered 24.69 million. Meanwhile, the number of contracts to the MVNO provided by a consolidated subsidiary has increased by 910,000 over the previous year to 1.77 million contracts, increasing the number of "mobile IDs" (the total of au account and MVNO subscriptions) by 1.8% year on year to 26.46 million.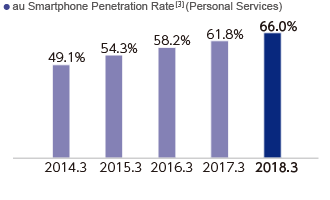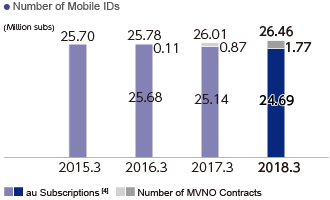 [3]

au smartphones/general handsets (smartphones and feature phones (including prepaid))

[4]

au Subscriptions: Personal Services segment accounts under the same name are counted as one au subscription
Fixed-Line Broadband
As of March 31, 2018, the cumulative number of FTTH subscriptions stood at 4.38 million, up 5.8% year on year and accounting for a market share of 12.9%. In CATV services, the number of RGU households as of March 31, 2018 increased steadily to 5.38 million, up 1.8% year on year.
By cross-selling FTTH and CATV services to the au customer base, we expect the KDDI Group customer base to continue growing stronger and expanding.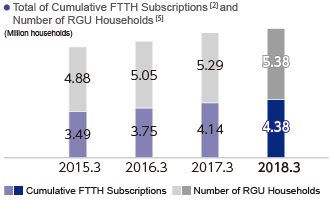 [5]

RGU: Revenue Generating Units. Each household's subscription to CATV, high-speed Internet connection, or telephony services represents one RGU
Non-Telecommunications Field
KDDI is aiming to establish a new source of growth in the non-telecommunications field by maximizing the "au Economic Zone."
The "au Economic Zone" comprises commerce, finance, energy, entertainment and education and other services. The amount of these services used, along with the total payments made through means provided by KDDI ("au Carrier Billing" and "au WALLET") together amount to total transaction volumes in the "au Economic Zone."
Approximately 30% of that total is recorded as "au Economic Zone" sales.