Corporate Information

Investor Relations

Management Policy

Medium-Term Management Plan (FY20.3-FY22.3)

Medium-Term Targets (FY17.3-FY19.3)
Medium-Term Targets (FY17.3-FY19.3)
We aim to enhance corporate value still further continuing to increase profits and augmenting shareholder returns through our business management direction, "Transform into a Business Providing Customer Experience Value."
Business Management Direction
For the last three years, we achieved the goal of our continuous growth and enhance shareholder returns. This was brought by a secured solid customer base by promoting the 3M Strategy.
Nowadays, in Japanese market, telecom market in Japan has been becoming homogeneous.
In this situation, we will transform ourselves into a business providing customer experience value which goes further than expected based on "Customer Perspective" and "Innovation."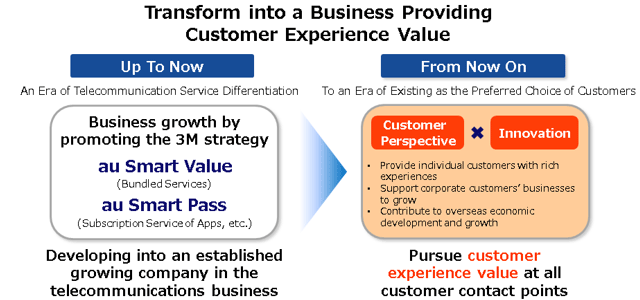 In addition to sustainable growth of the domestic business, we aim to maximize the "au Economic Zone" and ambitiously develop global business as new growth pillars.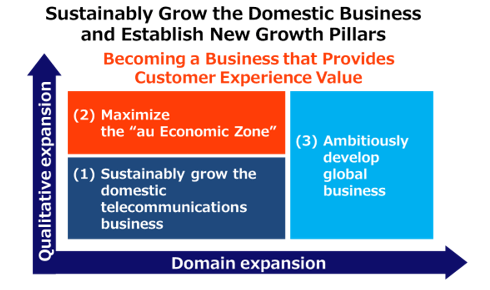 (1) Sustainably Grow the Domestic Telecommunications Business
We accelerate the promotion of "Multi-Use" and "Multi-Device" further for the next three years, in preparation to the change of the telecommunication business and our circumstances.
we aim to grow au ARPA (Average Revenue per Account), the usage charges per customer, and maximize the "number of au users x ARPA."
More precisely, we promote further penetration of tablets and other smart devices, boosting IoT (Internet of Things) initiatives, and intensify efforts to create new customer experience value in coordination with various devices.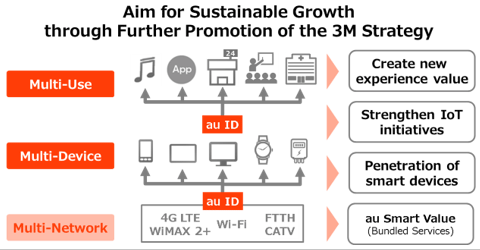 (2) Maximize the "au Economic Zone"
To establish new growth pillars in the era on non-telecommunications, we aim to transform from a telecommunication company into a life design company.
We aim to maximize the "au Economic Zone," the new economic zone on the au customer base, by comprehensively providing payment, commerce, energy and financial services in addition to existing communications services under the "au Life Design" concept.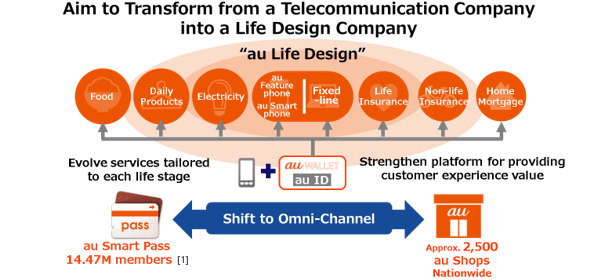 au contracts are based on rigorous identification procedures and au customer information has sound credit status. We aim to achieve a distribution total in excess of 2 trillion yen for the fiscal year ending March 2019 on this customer base, by (1) providing a payment platform that is easy for everyone to use, (2) building a DMP (Data Management Platform) and utilizing big data, and (3) promoting the au WALLET point circulation model.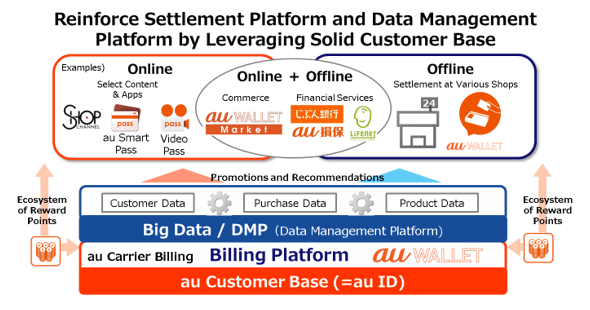 (3) Ambitiously Develop Global Business
KDDI Summit Global Myanmar Co., Ltd., a KDDI subsidiary, and Myanma Posts & Telecommunications (MPT) are jointly providing telecommunications business in Myanmar. By leveraging the experience and sophisticated technologies, we have accumulated as our know-how. We aim to contribute toward the development of Myanmar's economy and industry, as well as to the lives of the citizens. We reinforce the Myanmar business as a pillar of global business.
In March 2016, we consolidated Mobicom Corporation LLC which has a top share of domestic mobile communication subscriptions in Mongolia.
And Mobicom launched LTE service in May 2016.
We will continue to strengthen our base in ICT business mainly data centers for enterprise users, and grow our global business.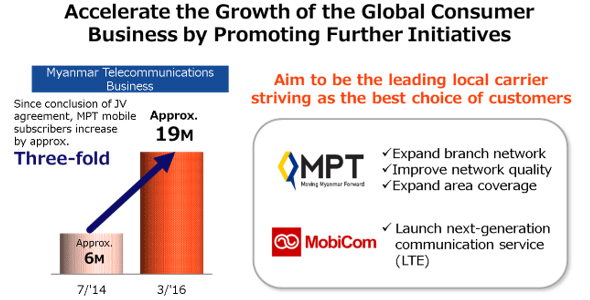 For profit growth target, we set the target of CAGR of 7% for the consolidated operating income and also aim gross merchandise value of "au Economic Zone" over 2 trillion yen.
Over three years, we achieve M&As for growth, amount of approx. 500 billion yen.
For shareholder return, we lift dividend payout ratio from "above 30%" to "above 35%", and repurchase own shares after growth investment.
We limit the amount of those treasury stock to approximately 5% of our total issued shares, and will cancel any treasury stock held in excess of this limit.
We achieve continuous growth and enhance shareholder return.