Corporate Information

Investor Relations

Management Policy

Medium-Term Management Plan (FY20.3-FY22.3)
Medium-Term Management Plan (FY20.3-FY22.3)
We aim to enhance corporate value still further by realizing "the integration of telecommunications and life design," continuing to increase profits, and augmenting shareholder returns.
We aimed for continuous growth and enhance shareholder return by offering customer experience value which goes further than expected and it has brought us a secured solid customer base and a steady growth in consolidated operating income up to now.
From now on, full-scale digitization is speeding onward against the backdrop of continual technological advances encompassing 5G (5th Generation Mobile Communications System), and it will bring us big changes in the competitive environment of Japans telecommunications market.
Amid this age of epochal change, KDDI drew up a new three-year medium-term management plan (FY20.3-FY22.3) to realize "the integration of telecommunications and life design."
Current four segments, Personal, Life Design, Business and Global will integrate into two segments, Personal which focus on individuals customers and Business which focus on corporate customers, and Global businesses will be positioned to extend domestic businesses.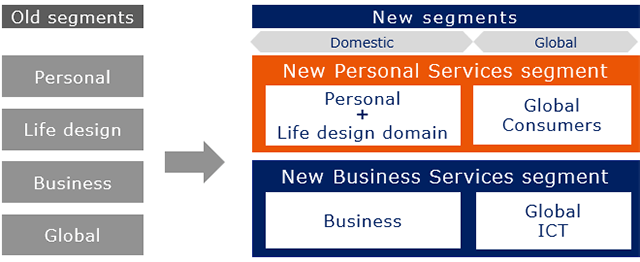 Our business strategies in the new medium-term management plan are consist of seven elements.
Creating innovation toward the 5G era
The integration of telecommunications and life design
Further expansion of global business
Utilizing big data
Expanding the finance business
Growth as a Group
Sustainability
(1) Creating Innovation toward the 5G Era
5G is expected to utilize in various fields from the characteristic of high capacity, low latency and massive connectivity.
We will create innovation through utilizing 5G with partner companies and will proceed to build new platform.
In addition, we believe utilizing 5G for regional revitalization is proactive business opportunity so we will promote digital transformation (DX) through utilizing 5G with local authorities and venture companies.
Creating Innovation toward the 5G Era

Driving Regional Revitalization through 5G
Regional case studies using IoT

We concluded cooperation agreements with 63 orianizations to utilize 5G
toward further solution of regional issues and regional revitalization
Establish the regional revitalization fund
Established ¥3 billion fund for the regional revitalization in April 2019
Contribute SDGs through driving DX to utilize 5G with regional venture companies
(2) The Integration of Telecommunications and Life Design
For individual customers, we aim to expand the businesses of life design services by providing experience value with excitement to customers through smartphones as starting point.
For corporate customers, with the keyword of business contribution, we will build new business models together with customers and will support the driving of DX for customers.
We aim to expand both businesses using telecommunications as the core.
The Integration of Telecommunications and Life Design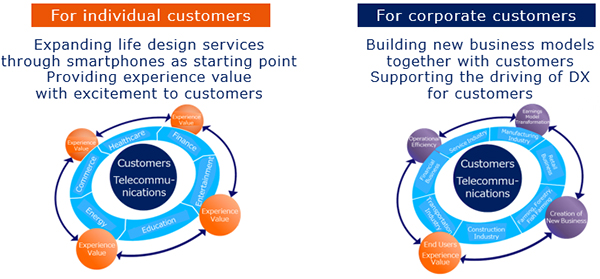 Maximizing Life Time Value (For domestic individual customers)
We aim to maximize the life time value and the growth of total ARPA through accelerating recurring services bundling with telecommunications and life design services.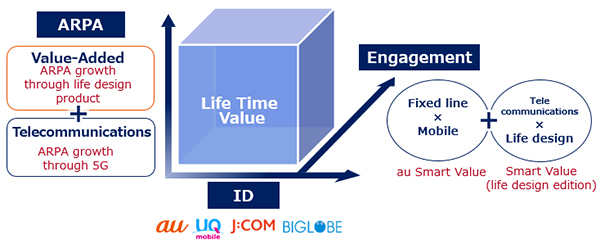 Expanding the Operating Revenue of Life Design Domain (For domestic individual customers)
In the life design domain which is the growth area, we aim to expand the operating revenue with ARPA growth, mainly commerce, energy and finance.
And our target of operating revenue in FY22.3 is ¥1.5 trillion.

[1]

Gross Merchandise Value

[2]

Transaction Volume of Settlement/Loan
Promoting Deeper Engagement (For domestic individual customers)
In order to maximize the life time value, we believe it's important to increase total ARPA by bundling mobile, fixed line and life design service as well. In addition, we will reduce the churn rate by bundling multiple services and we aim to expand the customer base through the deeper engagement.

Co-Creating Business with Partner Companies (For domestic/overseas corporate customers)
We will co-create business based on partner companies and our platform.
In addition, we will support the driving of DX in customers business through recurring businesses. We aim to expand IoT connections to 18 million and ¥1 trillion as operating revenue by FY22.3.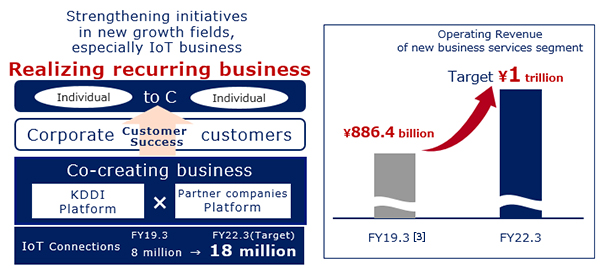 [3]

The figures of FY19.3 are referential information
(3) Further Expansion of Global Business
By integrating global consumers into Personal Services segment and global ICT into Business Services segment, leveraging business know-how in overseas cultivated in Japan, we aim to create the economic zone that is equivalent to that of Japan on global basis. We will also support customers businesses with our global partners based on KDDI IoT World Architecture which applied and developed the global communications platform.
Expansion to Global Business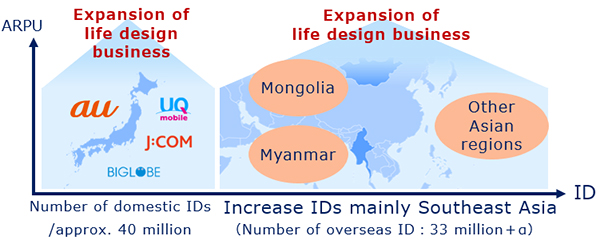 Growth Fields of Global ICT

For individual customers, we will do the best to propose products and services that are optimal for customers through linking online and offline data.
For corporate customers, we will visualize the real world by analyzing the big data collected from the real space by AI on the cyber space, will expand the business around us through collaboration with partner companies.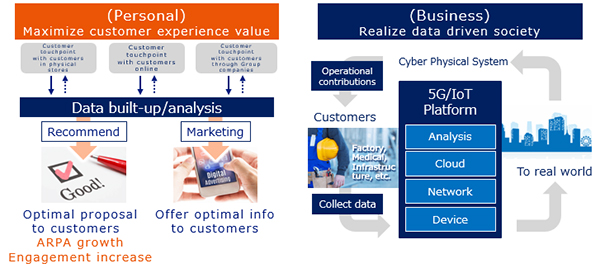 (5) Expanding the Finance Business
Based on Smart Money Concept announced in February 2019, put au PAY as the base, we will make the settlement and financial services in customers daily lives more accessible through smartphones that have become the center of our lives.
In order to enhance finance business, we established au holding company and integrate the company name as au brand name, will start full-scale business operations.

[4]

Each company whose company name will be changed to the au brand name will change name within FY20.3.
The change of the company name of Jibun Bank is subject to the obtaining of approval from the relevant authorities. Furthermore, with respect to a change of company names, au Insurance Company is required to obtain consent from Aioi Nissay Dowa Insurance Co., Ltd., which is its shareholder, and kabu.com Securities is required to complete the settlement concerning the tender offer for the company, and to go private. Logos are currently under discussion, and have not been determined
Our basic policy is to have group companies use our assets at maximum and our first priority is to make them grow. As a result, we aim to grow as the entire KDDI group for sustainable growth.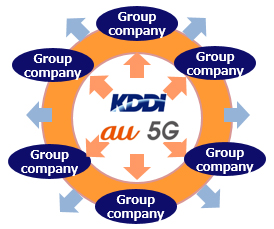 Under the medium-term management plan and as a natural progression from the sustainability activities in which KDDI has engaged to date, the Company has outlined the SDGs [5] it will focus on and set numerical targets. These targets are tied to business strategies, encompassing telecommunications, global business, regional revitalization, education, and finance, as well as to corporate activities, including developing human resources, supporting women's advancement in the workplace, respecting human rights, promoting diversity and inclusion, and conserving the environment. As we strive to reach these targets, we will continue to grow sustainably with society by resolving social issues through our businesses and corporate activities.
[5]

The sustainable development goals (SDGs) are international goals that were adopted at the United Nations General Assembly in September 2015
Sustainability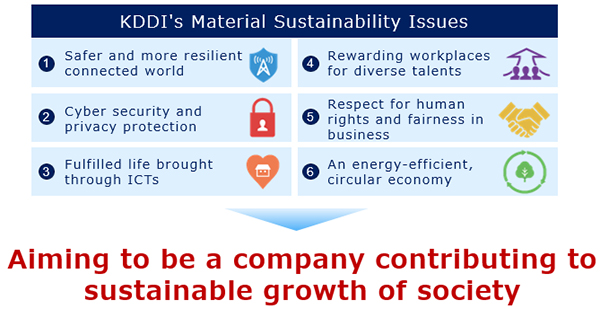 KDDI's Target SDGs

We aim to realize EPS 1.5 times (compare with FY19.3) in FY25.3 through sustainable profit growth and further strengthening shareholder returns.
Furthermore, in FY22.3, we aim to reach ¥1.5 trillion of operating revenue in life design domain, ¥1 trillion in new business services segment and generate approx. ¥100 billion profit through cost reductions, etc.
For shareholder return we lift dividend payout ratio to over 40%, and will repurchase flexible share buybacks. In addition, we will cancel all treasury shares.
We achieve continuous growth and enhance shareholder return.
Medium-Term Management Plan Summary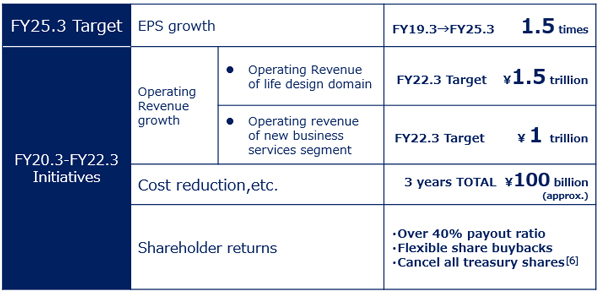 [6]

Except KDDI shares owned by executives' compensation BIP Trust Account and ESOP Trust Account