Corporate Information

Investor Relations

IR Documents

Integrated Report (Annual Report)

Selected Pages of Integrated Report (2015)

ESG

Society

Creating a Safe and Secure Information and Communications Society
Creating a Safe and Secure Information and Communications Society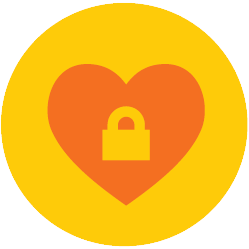 Material Issue:
Creating a Safe and Secure Information and Communications Society
Rapid advances in ICT, including the proliferation of mobile phones and smartphones, are making society more convenient. At the same time, they can lead to trouble for children and widen the digital divide among seniors.
The Company holds KDDI Mobile Phone Learning Classes in an effort to increase literacy through awareness activities. We are also working to improve the quality of these classes by setting key indicators for participant satisfaction and understanding.
Principal KPIs: For KDDI Mobile Phone Learning Classes, achieve a junior course satisfaction level of 90 points and achieve a senior course understanding level of 80% in FY2014
KDDI Mobile Phone Learning Class Safety and Security Seminars
KDDI, Okinawa Cellular, and KDDI Group Welfare Association [1] have been conducting KDDI Mobile Phone Learning Class safety and security seminars throughout Japan since FY2005 as a way to educate children on the safe and secure use of mobile phones and smartphones. The classes provide necessary information on rules and etiquette and teach children how to identify and protect themselves from trouble.
By vigorously promoting mobile phone classes for juniors, encouraging participation by elementary, junior high school, and high school student, as well as their guardians and teachers, in FY2014 these classes were held 3,283 times, representing a 3% year-on-year increase, and attended by some 570,000 people. From the time classes began in FY2005 through to the end of March 2015, we had conducted these classes 13,179 times, for some 2.38 million people.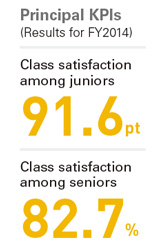 KDDI employees also served as instructors in classes for seniors, holding courses at regional institutions by liaising with municipal authorities. They lend each participant an au Simple Phone or smartphone and project onto a screen images of people actually performing operations, helping participants learn the basics of how to operate mobile phones and smartphones, gaining experience in sending e-mail and using the Internet.
In FY2014, we held these classes 200 times, for approximately 3,600 participants. Attendees made such comments as "I would like more detail on using these devices," and we are now revising our program in response.
In FY2015, we plan to introduce a tablet course and will continue to listen carefully to participants' comments as we help seniors learn how to use mobile phones, smartphones, and tablets enjoyably, safely, and securely.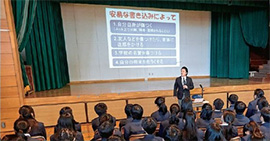 [1]

In FY2014, KDDI and Okinawa Cellular held classes at elementary schools in collaboration with the KDDI Group Welfare Association.
Providing Safe and Secure Products
KDDI offers a range of models tailored to a variety of specific customer needs, supporting their safety and security on the product front. For example, au's first junior smartphone, the "miraie," features a wide range of functions to ensure children can enjoy safe, secure smartphone use, and a durable design.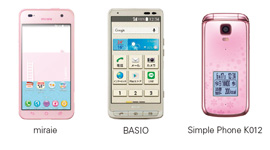 The "BASIO," the first au smartphone for seniors, offers userfriendly operations that are simple even for first-time users.
Targeting a mobile phone designed to closely meet the needs of a variety of customers, KDDI provides the "Simple Phone K012", which offers such features as one-touch dialing to registered numbers, an easy-to-see screen display, and user-friendly design.