Providing Commerce, Finance, Settlement, Entertainment, and Other Services for Individuals.
This segment provides individuals with value-added non-telecommunications services both online and offline. The segment makes subscription services, such as the digital content of "au Smart Pass/au Smart Pass Premium," more attractive.
It also strengthens the commerce business with "Wowma!" and other services, as well as insurance and other services in the financing business, with the goal of maximizing the "au Economic Zone" and expanding earnings.
Enhancing "au Smart Pass Premium"
"au Smart Pass Premium" has enjoyed positive reception from many customers as the premium service within "au Smart Pass," with membership reaching 4.3 million as of March 31, 2018. The service offers exclusive member benefits with "au Everyday" and "Santaro Day," with daily discounts on movies and karaoke, and free gifts such as french fries. Together with initiatives to improve customer experience value such as "Data Recovery Support" when devices become damaged and "Wi-Fi Security" to protect communications when connected to Wi-Fi, we aim to continue driving value-added ARPA expansion.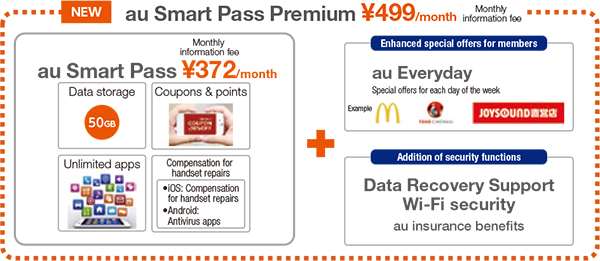 Indicated amounts exclude tax. Conditions apply when using the services and functions. Some functions incur separate charges. Please refer to the au website for details.
Expansion of the Finance and Settlements Businesses
In the finance business, we launched KDDI Asset Management Company, Limited in February 2018 as a joint venture with Daiwa Securities Group Inc. aiming to enter the asset management and defined contribution pension plan management businesses and start the provided services at an early date.
In the settlement business, the number of "au WALLET cards" issued increased steadily. As of March 31, 2018, the number of valid "au WALLET Credit cards" stood at 3.4 million and the number of valid "au WALLET Prepaid cards" at 19.7 million. "au WALLET" transaction volume for the fiscal year ended March 31, 2018 surpassed ¥1 trillion.
In November 2017, we introduced "au Carrier Billing" as a payment method for "Amazon Prime" and "Prime Student" membership fees, among other initiatives for expanding overall transaction volume.
As a result of these initiatives, in the fiscal year ended March 31, 2018, the gross merchandise value of the "au Economic Zone" increased 1.5 times year on year to ¥1.89 trillion.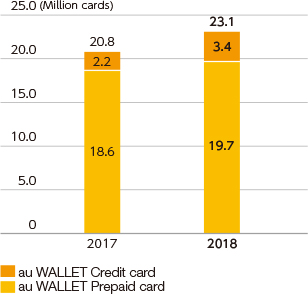 Solving Social Issues through Business
KDDI Open Innovation Fund
The KDDI Open Innovation Fund is a corporate venture fund operated by KDDI and Global Brain Corporation for investment in promising startups both domestically and internationally.
We provide full-scale support for the growth of our partner startups through utilization of our business networks and marketing skills, and collaboration with our services including "au Smart Pass."
We have specialized personnel based in San Francisco, USA, and Seoul, South Korea, where we are looking to invest in startups with the latest technologies or innovative business models. We provide wide-ranging support for business development, marketing and localization when these companies look to expand their business to Japan.