Communication Services (au and MVNO mobile services, FTTH, CATV), Energy, Education, and Other Services for Individuals
In mobile services, the segment offers the mainstay "au" brand services and MVNO services provided by consolidated subsidiaries such as UQ Communications Inc. Fixed-line services include "au Hikari" brand FTTH services, CATV service, and others.
The segment also provides non-telecommunications services such as the "au WALLET Market" product sales service making use of au shops, as well as energy services such as "au Denki" and education services provided under the "AEON" brand.
Expansion of Pricing Plans
In July 2017, KDDI launched "au Pitatto Plan," which automatically applies a five-tier flat-rate plan depending on customers' data usage, and "au Flat Plan," a large-volume data communication plan (20GB/30GB). A new handset purchase program "Upgrade Program EX" was also launched for subscribers to either plan.
"au Pittato Plan" is priced to provide a palpable discount to low-data usage customers, who are at high risk of shifting to low-cost smartphones, and is helping to improve the au churn rate. Meanwhile, the "au Flat Plan" is contributing to an increase in au ARPA due to an increase in the selection rate among new price plan subscribers. These results show that both plans are popular with customers.
As a result, the number of new price plan subscribers as of April 8, 2018 exceeded 7 million.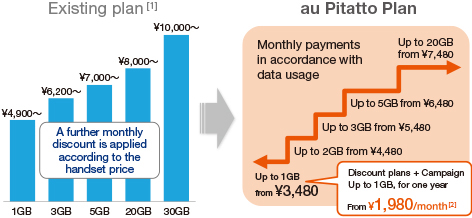 Increasing Customer Satisfaction
KDDI is continuing to enhance the benefits of "au STAR" with the goal of encouraging customers to use au services for the long term. We also provide benefits on days of the month that end in "3" (3rd, 13th, 23rd) under our "Santaro Day" program, which was launched in July 2017. With our "au Smart Support" subscriber support service, our dedicated staff provide optimal support tailored to customers' situations, from purchasing through to use of handsets.
Through these and other initiatives, KDDI has been working to increase customer satisfaction.
Customers who are signed up to multiple services such as "au STAR" tend to have lower churn rates of customers using a single service. We will therefore continue to focus on enhancing our services going forward.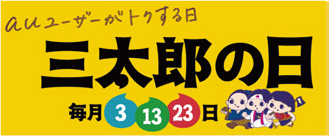 Indicated figures are monthly charge and exclude taxes.Basic charge (two-year contract) + Data flat fee + LTE NET

[1]

"SuperKakeho" + "Data flat fee (1/3/5/20/30)"

[2]

The amount shown is "au Pitatto Plan (SuperKakeho)" (Applied with "two-year contract," "au Smart Value" and "Big news campaign") (as of March 31, 2018)
Solving Social Issues through Business
Providing Safe and Secure Products and Services
As part of its effort to enhance customer experience value, KDDI believes it is important to provide products and services that allow every customer to experience the joy of communication to an even greater degree than before. We also focus on improving accessibility and providing services that anyone can use with peace of mind. To make that possible, we are working to offer products and services based on the principle of universal design, ensuring that everyone, from children and seniors to the disabled, can use them safely and securely.