Corporate Information

Investor Relations

IR Documents

Integrated Report (Annual Report)

Selected Pages of Integrated Report (2018)

ESG

KDDI's Material Sustainability Issues: Safer and More Resilient Connected World
KDDI's Material Sustainability Issues: Safer and More Resilient Connected World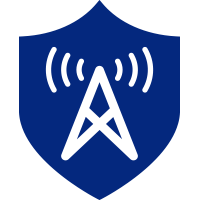 Material Issue
Safer and More Resilient Connected World
Social Issues and Recognition
Risks and Opportunities for KDDI
Risks
Opportunities
In an advanced information society, information and communications services are the most important lifeline. The disruption of this lifeline due to factors such as natural disasters can be a major factor behind a downturn in society and the economy itself. KDDI has an obligation to support local communities in which people can live with peace of mind by continuing to provide reliable communications services 24 hours a day, 365 days a year.

Decline in KDDI's corporate value in the event telecommunications services fail due to factors such as natural Disasters

Contribute to society and the economy overall, and enhance KDDI's corporate value, by continuing to provide information And communications services even in the event of unforeseen circumstances
Building a Disaster-Resistant Communications Environment
To create a management structure for dealing with largescale natural disasters, KDDI has formulated disaster response regulations and business continuity plans (BCP), and built a number of other initiatives including a disaster response framework. We have also entered into disaster management agreements with the Ministry of Defense, the Self-Defense Forces and the Coast Guard, collaborating with relevant organizations to further strengthen our disaster response.
Business Continuity Plan for Large-Scale Disasters
KDDI's Business Continuity Plan (BCP) for Large-scale Disasters establishes a variety of countermeasures based on a policy of ensuring the safety of employees and their families, carrying out the Company's responsibility to continue telecommunications services as a designated public institution, and supporting our stakeholders. Specifically, the plan establishes specific rules for responding to a disaster, from initial mobilization to full restoration of services, as well as providing support for disaster-affected areas.
The effectiveness of the BCP is assessed through biannual disaster response training. The Company works to improve on any issues or problem areas identified through that training, and each year a PDCA cycle is employed in building a more solid foundation for disaster response.
Structure of Disaster Response Office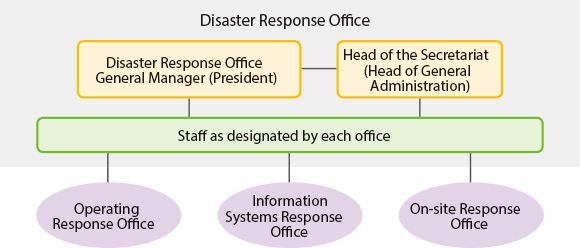 Highlights Facilities Countermeasures for Ensuring Communications Services during a Disaster
Multi-Route Core Transmission Lines and Route Distribution
To ensure reliable communications, KDDI works to distribute its telecommunications equipment capacity, establishing redundant communications lines (terrestrial optical fiber) and a structure that uses automated switching to provide relief to the communications network during failures. In addition, submarine cables and other means are used to provide multi-route communications lines, ensuring a highly reliable communications network. In the event of trouble, bypass measures are implemented in an effort to relieve communications.
Strengthening of Disaster Resilience in Communication Stations and Telecommunications Facilities
KDDI has augmented deployment of mobile power supply vehicles and emergency power generators to enable rapid power supply to telecommunications equipment in disaster-hit areas. To ensure communications services in disaster affected areas, we have also increased deployment of wireless entrance lines as well as vehicle-mounted and portable base stations, and equipped around 2,200 mobile phone base stations with batteries capable of operating for more than 24 hours.
Deploying the au Disaster Recovery Support System
To quickly grasp the extent of damage during a disaster and formulate a precise recovery plan, KDDI has deployed the au Disaster Recovery Support System throughout its 10 technical centers nationwide. The system provides centralized management of regional damage information, conditions at key sites, and information on emergency shelters and evacuation routes. This information is provided in real time to provide a clear understanding of priority recovery areas, enabling us to provide effective recovery response even when damage is widespread.
Deployment of Temporary Base Stations
To prepare for situations where it is difficult to provide mobile phone services from land or sea during a disaster, KDDI has developed drone base stations that can provide temporary mobile phone services. We will be conducting proof of concept experiments in preparation for putting these drone stations into practical use.